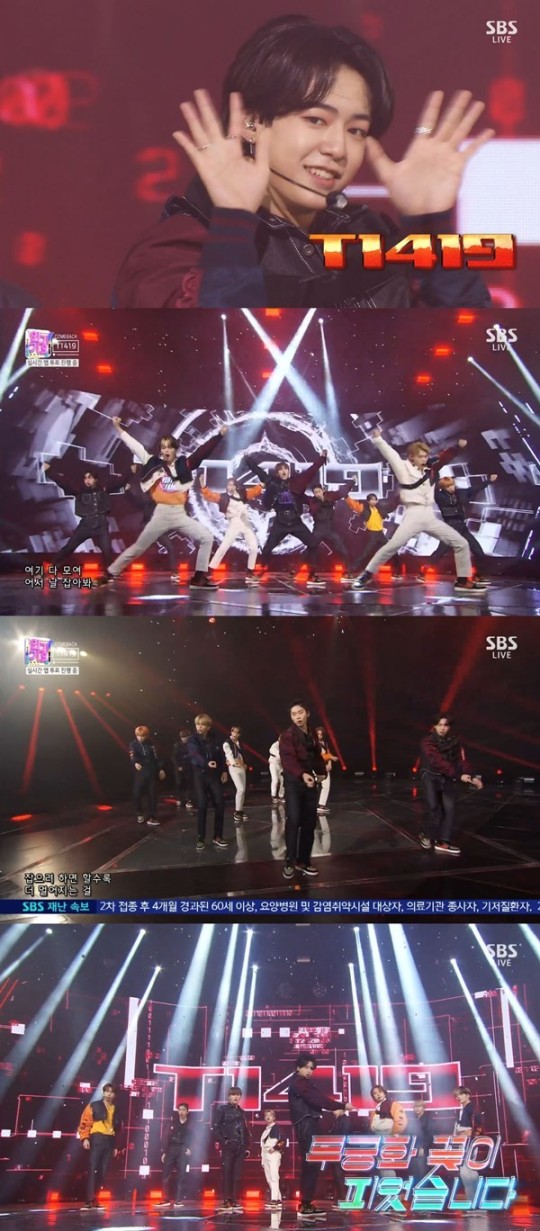 Kpop group T1419 members bloomed with the performance of their new song 'Red Light, Green Light.'
T1419 appeared on SBS 'Inkigayo,' which aired on the afternoon of December 5. They presented their comeback performance for the new song 'Red Light, Green Light.'
On this day, T1419 drew attention with its unrivaled performance. They started the performance with a strong intro titled 'Red Light, Green Light.'
The members filled the stage with colorful choreography reminiscent of the traditional game 'Red Light, Green Light.'
The T1419 members boasted perfect synergy through fantastic point choreography. But, each member showed off their unique stage manners, showing off their talent as a performance master.
T1419's first digital single album, 'Red Light, Green Light,' contains the story of nine boys chasing their dreams. They wittily expressed their progress toward their dreams by comparing them to the traditional Korean game 'Red Light, Green Light.'
It conveys the message that even the hours of pain and patience in the process of chasing dreams can be enjoyed as fun as play, depending on your decision.
T1419 debuted in January this year with 'BEFORE SUNRISE Part. 1.'
They released two albums in a row in March and August, establishing themselves as a representative idol of the fourth generation. T1419 proved its global popularity by winning the 'AAA Potential Award' at the 2021 Asia Artist Awards held on December 2.
Meanwhile, Kpop group T1419 continues its ongoing activities with the new song 'Red Light, Green Light.'
Read More About: IU Wins 5 'MMA' Titles + 'Melon Music Awards' List Of Winners
and Kevin
,
BEFORE SUNRISE Part.2
,
BEFORE SUNRISE Part.3
,
best Kpop girl group
,
best kpop news site
,
best kpopstar
,
breaking news kpop
,
daily kpop news
,
Exit
,
Fandom
,
FLEX
,
KAIRI
,
kIO
,
Korean celeb news
,
Korean singer
,
Korean singer songwriter
,
KPOP
,
Kpop album
,
Kpop beauty routine
,
Kpop boy group
,
kpop celebrity news
,
Kpop chart and news
,
Kpop colllaboration
,
KPOP comeback
,
Kpop current news
,
kpop daily news
,
Kpop fashion
,
Kpop girls group
,
Kpop idols
,
Kpop issues
,
Kpop latest news
,
Kpop music chart
,
Kpop news
,
Kpop news articles
,
Kpop news sites
,
kpop news update
,
Kpop recent news
,
Kpop shocking news
,
Kpop skin care routine
,
Kpop skincare routine
,
Kpop T1419
,
KPop trending news
,
KPOPNEWS
,
shocking kpop news
,
shocking news on Kpop
,
shocking news updates
,
South Korean singer songwriter
,
T1419
,
t1419 MEMBERS
,
T1419 news
,
the best kpop girl group
,
the best kpop girl group of 2021
,
the best kpop group of 2021
,
the top kpop group
,
top kpop boy group
,
top kpop girl group