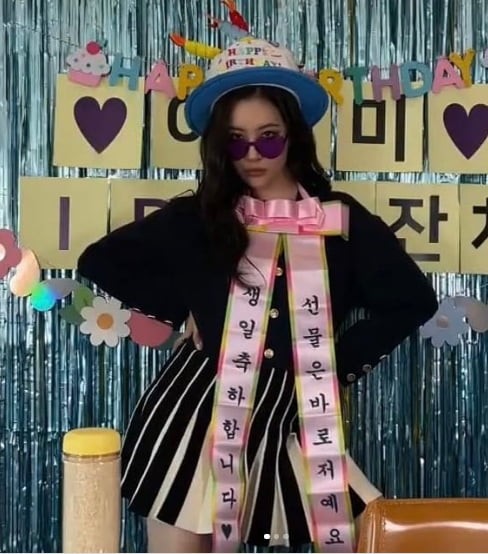 Singer Sunmi celebrated her birthday.
On the 2nd of May, Sunmi revealed her birthday party on her Instagram. In the photo, she is wearing a ribbon around her neck with the phrase "My birthday gift is me." She is wearing sunglasses and a birthday hat. Her style was full of playfulness, which attracts the attention of fans.
Sunmi wrote the phrase "Birthday girl be like" in her post. Tiger JK commented, "Happy Birthday."
Born in 1992, Sunmi is now 30 years old in Korean age. Previously, she gained weight from 41kg to 50kg. Because of that, she started her diet again in February.
She released a new song, 'Tail,' on February 23 and continuing to accomplish various activities. She also worked as a judge in the JTBC entertainment program 'Singer Gain-Unknown Singer.'
In addition, she appeared on SBS entertainment programs 'Baek Jong-won's Alley Restaurant' and KBS2 'Comeback Home.'
Read More About:
Sunmi Appeared On KBS 2TV 'Comeback Home' With Rain
Minho Song Shared His Thoughts About His Sister And Seungyoon Kang
Kpop artist
,
Kpop news
,
Kpop trending
,
KPop trending news
,
Kpop trending now
,
kpop trending update
,
KPOP2021
,
KPOPIDA
,
KPOPNEWS
,
Sunmi
,
sunmi body
,
sunmi fashion
,
sunmi Instagram
,
sunmi kpop
,
sunmi on Comeback Home
,
Sunmi photos
,
sunmi style
,
sunmi wonder girls
,
sunmi wondergirls
,
Trending
,
trending 2021
,
trending kpop
,
Trending Kpop news
,
trending kpop update
,
trending news
,
trending update kpop
,
wonder girls sunmi