Kpop group STAYC is meeting with fans through magazine pictorials and interviews before their comeback. On August 26th, fashion magazine 'ELLE' released a part of the September edition pictorials of STAYC.
They carried out this photoshoot according to the mysterious and dreamy concept of STAYC's first mini-album, 'STEREOTYPE,' to release on September 6th. The pictorial focused on capturing the expectations for STAYC's shining present and future. The members brightened the filming site with their extraordinary positive energy. They completed the photoshoot positively despite their busy schedules with the final preparations for their album.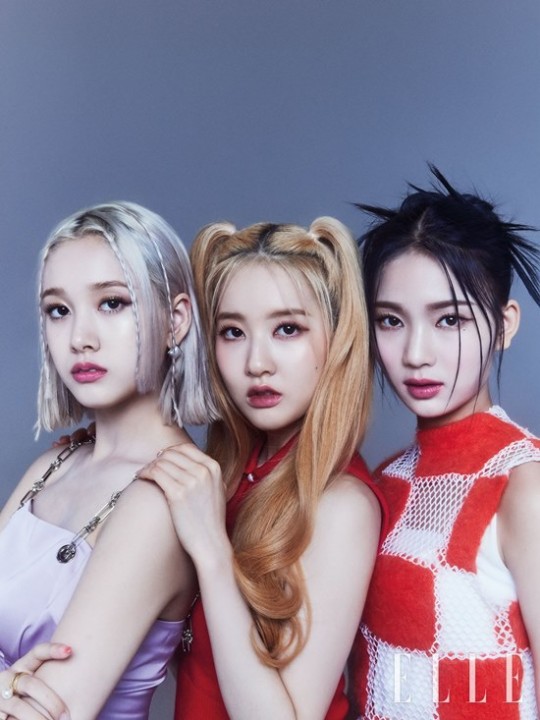 Kpop group STAYC caught the eyes of the fans with their unconventional style change through a pictorial. The intense and chic images of the members that they haven't shown before are impressive. The superior visuals of each member are worthy of the modifier 'all center idol.'
It makes it impossible for fans to take their eyes off the members' photos.
They also released a part of the individual interviews of the STAYC members, conducted along with the photoshoot. When asked about 'what they want to do best right now,' Yoon said, "I've been practicing more and more happily ever after receiving compliments that my singing has improved a lot. Also, I want to make good use of the point choreography of the next song." 
In addition, J answered, "I don't want to forget the days when I didn't know anything and practiced hard when preparing for my debut."
Then, Sumin answered, "I don't want to lose my kindness."
Particularly, they did not forget the anticipation for the upcoming comeback. ISA said, "The title track of our new album is the first song we received as a song before our debut. I am happy to be able to promote with this song finally."
Also, Sieun expressed her excitement by saying, "I hope we will be able to deliver the message contained in the new album well."
Fans can view STAYC's pictorial, interview, and video in 'ELLE's September magazine, on their website and YouTube channel.
Meanwhile, Kpop group STAYC will release their first mini-album 'STEREOTYPE' through various online music sites at 6 pm on September 6th. In addition, pre-orders for physical albums are in progress through all online music sites.
Read More About: NCT 127, Caught Up In A Controversy Over Plagiarizing Of Props
daily kpop news
,
daily kpop update
,
elle magazine
,
KPOP
,
Kpop artist
,
Kpop artists
,
Kpop daily
,
kpop daily news
,
Kpop group STAYC
,
Kpop idols
,
Kpop news
,
kpop news daily
,
kpop stayc
,
Kpop trend
,
Kpop trending
,
KPop trending news
,
Kpop trending now
,
Kpop_StayC
,
KPOP2021
,
Kpopdaily
,
KPOPIDA
,
KPOPNEWS
,
Kpopstar
,
Kpopstars
,
StayC
,
StayC comeback
,
STAYC debut
,
STAYC joins Weverse
,
STAYC members
,
STAYC news
,
stayc staycation
,
stayc staydom
,
stayc_asap
,
trending kpop
,
Trending Kpop news
,
trending kpop update