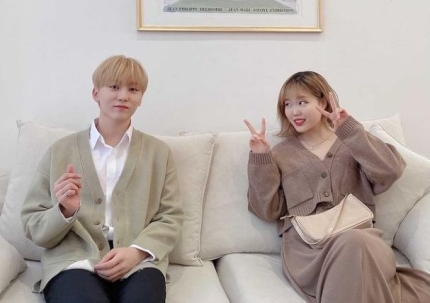 SEVENTEEN member Seungkwan and AKMU (Akdong musician) Suhyun made global fans happy through their cover song 'Whenever.'
Following last year, the two released this year's duet cover song on SEVENTEEN's official SNS on the 17th, captivating fans.
'When Would It Be' is a ballad sung by singers IU and Hyun-sang Yoon. It was popular at the time of its release in 2014 with emotional lyrics. Its about a couple who missed each other after their break up.
The song 'Whenever' sung by Seungkwan and Suhyun is a song that exudes a different charm from the original song. Seungkwan's voice with a strong appeal, stimulating emotions, and Suhyun's voice, full of subtle charms, meet.
The song 'Whenever,' sung by Seungkwan and Suhyun, has been hitting 360,000 views in 17 hours from the public and is recording 100,000 likes.
Read More K-News:
BTS Overtook Taylor Swift Making Then The 'World's Best-Selling Musician'
IU Singing At A Wedding Reception Goes Viral On SNS
HOT ISSUE Released Their Vocal Live Cover Video
2021 kpop news
,
2021 kpop news updates
,
2021 kpop updates
,
2021 updates on kpop
,
Akdong Musician
,
AKMU_Suhyun
,
All kpop
,
Allkpop
,
KPOP
,
Kpop 2021
,
Kpop artist
,
Kpop artists
,
Kpop hottest singer
,
Kpop idols
,
Kpop news
,
Kpop trend
,
Kpop trending
,
KPop trending news
,
Kpop trending now
,
kpop trending update
,
KPOP2021
,
Kpopall
,
KPOPIDA
,
KPOPNEWS
,
Kpopnews 2021
,
Kpopstars
,
Seventeen
,
seventeen cover song
,
Trending
,
trending 2021
,
trending kpop
,
Trending Kpop news
,
trending kpop update
,
trending news