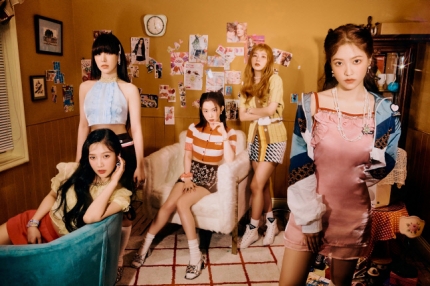 Kpop group Red Velvet took first place on the album chart with their new mini-album, 'Queendom.'
Red Velvet's sixth mini-album, 'Queendom,' released on August 17th, took first place on various album charts. It topped Synnara Record, Yes24, Kyobo Bookstore, and Hot Tracks on August 18th. So, it confirms the high interest of music fans once again.
In addition, this album topped the iTunes Top Albums chart in 51 regions around the world, including the Czech Republic. The title song 'Queendom' continued its popularity streak for the third day on the music charts such as Genie, Bugs, Vibe, and Momople.
This album includes the title song 'Queendom,' which has a refreshing mood with an addictive hook and the members' cheerful vocals. Songs included are: 'Pose,' 'Knock On Wood,' 'Better Be,' 'Pushin' N Pullin,' and 'Hello, Sunset,' for a total of 6 songs in various genres. The kpop group Red Velvet is continuing to receive good responses from fans.
Read More About; WJSN Dayoung Brought A Cake For Eunji Jung's Birthday
Joy_Red velvet
,
KPOP
,
Kpop artist
,
Kpop artists
,
KPOP music
,
Kpop music chart
,
Kpop news
,
kpop red velvet
,
Kpop trending
,
KPop trending news
,
Kpop trending now
,
KPOP_Red Velvet
,
KPOP2021
,
KPOPIDA
,
KPOPNEWS
,
red velvet
,
red velvet news
,
RED VELVET SEULGI
,
red velvet yeri
,
red velvet_Joy
,
red velvet_wendy
,
Red Velvet_Yeri
,
red velvet-seulgi
,
RED_VELVET
,
RED_VELVET_IRENE
,
RED_VELVET_Joy
,
Red_Velvet_Seulgi
,
Redvelvet
,
trending 2021
,
trending kpop
,
Trending Kpop news
,
trending kpop update
,
trending news
,
trending update kpop
,
wendy red velvet