Kpop group Red Velvet member Joy showed off a refreshing fashion.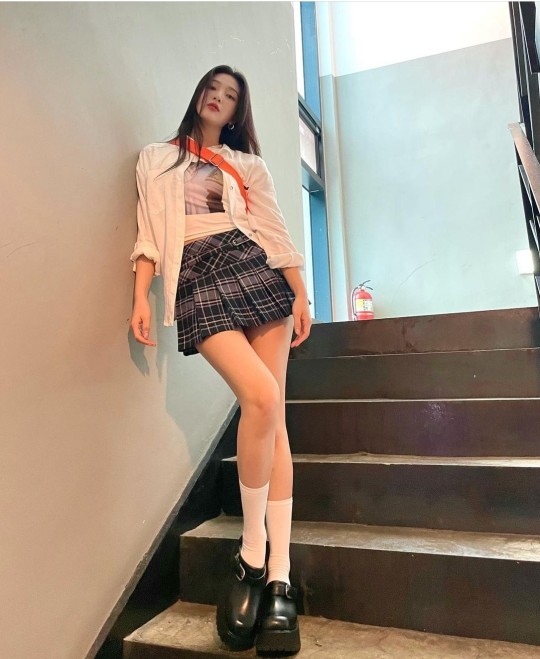 On September 15th, Joy posted several photos on her Instagram.
In the published photo, she is wearing a cropped T-shirt and a white shirt, matching it with a checkered-patterned super mini skirt. She completed a school look with a fresh and relaxed mood. Here, she added points to her style with an orange crossbody bag, white socks, and chunky mule slippers. Particularly, her slender legs attract attention. 
Fans who saw this left comments about Joy's body and fashion, such as "Her legs are really 2 meters long," "Her upper body is conservative," "Her skirt is too short," and "She physically looks good."
Meanwhile, Kpop group Red Velvet Joy recently admitted that she was dating singer Crush.
Read More About: BLACKPINK Jisoo Boasts Her Smooth Shoulder Line
2021 kpop news
,
2021 kpop news updates
,
2021 kpop updates
,
2021 news kpop
,
fashion
,
fashion kpop
,
Joy_Red velvet
,
K FASHION
,
K-Fashion
,
KFashion
,
KPOP
,
Kpop 2021
,
Kpop artist
,
Kpop artists
,
Kpop fashion
,
Kpop idols
,
Kpop latest news
,
Kpop news
,
Kpop recent news
,
kpop red velvet
,
Kpop trend
,
Kpop trending
,
KPop trending news
,
Kpop trending now
,
kpop trending update
,
KPOP_Red Velvet
,
KPOP2021
,
Kpopall
,
KPOPIDA
,
KPOPNEWS
,
Kpopnews 2021
,
Kpopnews2021
,
red velvet
,
Red Velvet members
,
red velvet news
,
RED VELVET SEULGI
,
red velvet yeri
,
red velvet_Joy
,
red velvet_wendy
,
Red Velvet_Yeri
,
red velvet-seulgi
,
RED_VELVET
,
RED_VELVET_IRENE
,
RED_VELVET_Joy
,
Red_Velvet_Seulgi
,
Redvelvet
,
Trending
,
trending 2021
,
trending kpop
,
Trending Kpop news
,
trending kpop update
,
trending news
,
trending update kpop
,
wendy red velvet