As Kpop group Red Velvet's Joy and singer Crush acknowledged their romantic relationship, the two were caught on a sweet date.
The date of the two, covered by Sports Chosun, was twice as happy. Joy brings her dog Haetnim and Crush brings his dog Soymilk. Crush and Joy met at an apartment complex in Yongsan-gu, Seoul, with their respective dogs. They are wearing a comfortable outfit that matched an over-fit short-sleeved T-shirt with shorts and slippers. They showed the excitement of a fresh couple with a couple hat. The two walked their dogs side by side while talking. Although they are wearing a mask following the COVID-19 quarantine rules, the look in their eyes was sweet.
Joy and Crush worked together on May 20 last year, featuring Joy in Crush's first single 'Mayday.'
The two, who have been friends since then, and developed good feelings and became lovers.
Joy's agency SM Entertainment and Crush's agency P Nation said, "The two recently developed good feelings that turned into a relationship."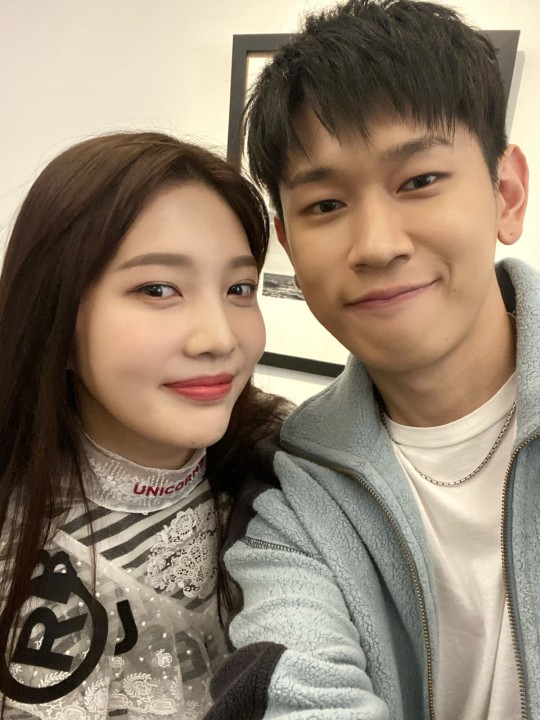 Singer Crush, who was born in 1992, debuted as a Masterpiece member with Cheetah in 2012. Then, he made a solo debut with 'Red Dress' featuring TakeOne. After that, he released hit songs such as 'Hug Me,' 'Sofa,' 'Young,' 'Oasis,' 'It's Okay, That's Love' OST 'Sleepless Night,' and 'Goblin OST 'Beautiful.'
He stood tall as a 'powerful music player.'
In 2016, he won the 3rd Space-Out Competition and gathered a lot of attention. Crush started his military service as a public service worker on November 12, 2020.
Joy was born in 1996 and debuted with Red Velvet in 2014. The group gained global popularity by releasing hit songs. It includes 'Dumb Dumb,' 'Peek-a-boo,' 'Ice Cream Cake,' 'Russian Roulette' and 'Red Flavor.'
In May, Joy released her first solo album 'Hello' and boasted a clean voice different from when she was promoting with Red Velvet. In addition, after appearing in 'The Liar In His Lover' in 2017 and 'Tempted' in 2018, she is building a filmography as an actress by taking on the role of Mido Seong in 'Only One Person,' which will air this year. Red Velvet released the mini-album 'Queendom' on August 16th and made a full comeback after 2 years since the release of 'Psycho' in 2019.
The Kpop soloist 'Crush' and Red Velvet's 'Joy' publicly announced their status as a couple. They are the new 'music couple' in the music industry. So, global fans are continuing to support their romantic relationship.
Read More About: Purple Kiss To Comeback In September With 'Hide & Seek'
2021 kpop news
,
2021 kpop updates
,
crush
,
crush news
,
Joy
,
Joy New Album
,
Joy_Hello
,
Joy_Red velvet
,
KPOP
,
Kpop 2021
,
Kpop artist
,
Kpop artists
,
kpop couples
,
kpop dating issues
,
Kpop idols
,
Kpop Joy
,
Kpop news
,
kpop red velvet
,
kpop singer crush
,
Kpop trend
,
Kpop trending
,
KPop trending news
,
Kpop trending now
,
kpop trending update
,
KPOP_Red Velvet
,
KPOP2021
,
KPOPIDA
,
KPOPNEWS
,
red velvet
,
red velvet news
,
red velvet_Joy
,
RED_VELVET_Joy
,
singer crush
,
Trending
,
trending 2021
,
trending kpop
,
Trending Kpop news
,
trending kpop update
,
trending news
,
trending update kpop