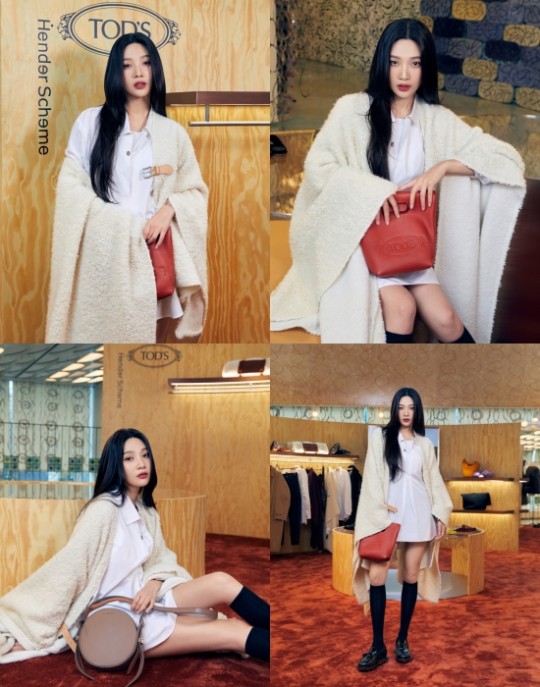 Kpop group Red Velvet member Joy showed off her seductive charm with the autumn atmosphere to its fullest.
On October 8, Italian luxury brand TOD'S Ambassador Joy attended the launchIng event of the TOD's X Hender Scheme Collaboration Capsule Collection held at 10 Corso Como Seoul.
On this day, Joy completed a sensible autumn look. She matches a chunky Alpaca shawl, a tote bag featuring Tod's logo, and pebble moccasins.
Joy's unique aura added to the admiration of the viewers. Her sensual styling makes her a 'wannabe fashion icon.'
Meanwhile, Kpop group Red Velvet's 'Queendom' remix version will be out on October 15.
The 11th single, 'iScreaM Vol.11: Queendom Remix,' presented by the 'iScreaM' project, will be out on October 15 at 6 pm through various music sites. It will be available on Flo, Melon, Genie, iTunes, Apple Music, Spotify, QQ Music, KuGou Music, and Kuwo Music.
This 'Queendom' remix is ​​produced by talented DJ and producer Demicat. The original song with a refreshing atmosphere is sensually and magnificently reinterpreted using the sounds of various genres such as dub, slap house, and trap, providing a different charm.
Read More About: Mamamoo Solar Shows Her Alluring Sexy Beauty & Aura
best Kpop girl group
,
best kpop news site
,
best kpopstar
,
breaking news kpop
,
daily kpop news
,
Fandom
,
IRENE
,
Joy
,
Joy_Red velvet
,
Korean celeb news
,
Korean singer
,
Korean singer songwriter
,
KPOP
,
Kpop album
,
Kpop beauty routine
,
Kpop boy group
,
kpop celebrity news
,
Kpop chart and news
,
Kpop colllaboration
,
KPOP comeback
,
Kpop current news
,
kpop daily news
,
Kpop fashion
,
Kpop girls group
,
Kpop group Red Velvet
,
Kpop idols
,
Kpop issues
,
Kpop latest news
,
Kpop music chart
,
Kpop news
,
Kpop news articles
,
Kpop news sites
,
kpop news update
,
Kpop recent news
,
kpop red velvet
,
Kpop skin care routine
,
Kpop skincare routine
,
KPop trending news
,
KPOP_Red Velvet
,
KPOPNEWS
,
POSE
,
Queendom
,
Queens Mystic General Store
,
red velvet
,
Red Velvet members
,
red velvet news
,
RED VELVET SEULGI
,
red velvet yeri
,
red velvet_Joy
,
red velvet_wendy
,
Red Velvet_Yeri
,
red velvet-seulgi
,
RED_VELVET
,
RED_VELVET_IRENE
,
RED_VELVET_Joy
,
Red_Velvet_Seulgi
,
Redvelvet
,
South Korean singer songwriter
,
the best kpop girl group
,
the best kpop girl group of 2021
,
the best kpop group of 2021
,
the top kpop group
,
top kpop boy group
,
top kpop girl group
,
wendy red velvet