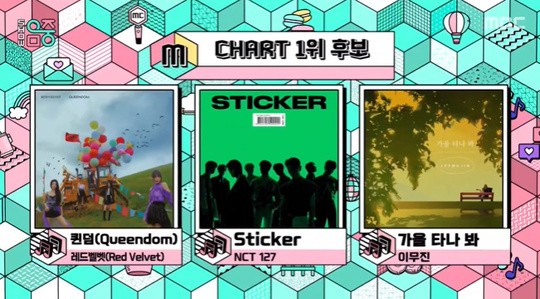 Kpop group Red Velvet, NCT 127, and Mujin Lee met as candidates for 1st place. The MBC 'Show! Music Core' broadcast on October 2 revealed the first-place candidates for the first week of October.
On this day's 'Music Core,' Red Velvet's 'Queendom,' NCT 127's 'Sticker,' and Mujin Lee's 'Fall In Fall' were nominees for first place.
Kpop group NCT 127 took first place on last week's broadcast with the title song 'Sticker' of their 3rd full-length album, released on September 17. So, they are aiming for the top spot for the second time. 'Sticker' is a hip-hop dance song with an intense bass line and rhythmic vocals on an addictive signature flute sound. Members Taeyong and Mark participated in the rap making.
Earlier, the Kpop group Red Velvet ranked first for three consecutive weeks. They continue their popularity and aiming to retake the first place. Then, the solo singer Mujin Lee is also a nominee with 'Fall In Fall.'
'Fall In Fall' is the fourth song of the 'REVIBE Project,' launched before the 20th anniversary of VIBE (Jaehyun Ryu, Minsoo Yoon)'s debut.
Following the 'Traffic Light,' Mujin Lee emerged as a 'music powerhouse' with 'Fall In Fall.'
So, music fans are paying attention to whether Mujin Lee will be able to beat his rivals and take first place. 
Read More About: Tri.be Unveils 1st Mini Album Tracklist!
best Kpop girl group
,
best kpop news site
,
best kpopstar
,
breaking news kpop
,
daily kpop news
,
Fandom
,
group NCT 127
,
IRENE
,
Jaehyun Ryu
,
Joy
,
Korean celeb news
,
Korean singer
,
Korean singer songwriter
,
KPOP
,
Kpop album
,
Kpop beauty routine
,
Kpop boy group
,
kpop celebrity news
,
Kpop chart and news
,
Kpop colllaboration
,
KPOP comeback
,
Kpop current news
,
kpop daily news
,
Kpop duo VIBE
,
Kpop fashion
,
Kpop girls group
,
kpop group NCT 127
,
Kpop group Red Velvet
,
Kpop idols
,
Kpop issues
,
Kpop latest news
,
Kpop music chart
,
kpop nct 127
,
Kpop news
,
Kpop news articles
,
Kpop news sites
,
kpop news update
,
Kpop recent news
,
kpop red velvet
,
Kpop skin care routine
,
Kpop skincare routine
,
KPop trending news
,
KPOP VIBE
,
KPOPNEWS
,
male duo VIBE
,
Minsoo Yoon
,
Mujin Lee
,
mujin lee traffic light
,
NCT
,
nct 127
,
NCT 127 3rd full-length album
,
nct 127 kpop
,
NCT 127 members
,
nct 127 NEWS
,
NCT 127 presents Sticker
,
nct 127 Save
,
NCT members
,
NCT sub-unit
,
NCT127
,
POSE
,
Queendom
,
Queens Mystic General Store
,
red velvet
,
Red Velvet members
,
red velvet news
,
red velvet_Joy
,
red velvet_wendy
,
Red Velvet_Yeri
,
red velvet-seulgi
,
RED_VELVET
,
RED_VELVET_IRENE
,
RED_VELVET_Joy
,
Red_Velvet_Seulgi
,
Redvelvet
,
revibe project
,
singer Mujin Lee
,
South Korean singer songwriter
,
Sticker
,
the best kpop girl group
,
the best kpop girl group of 2021
,
the best kpop group of 2021
,
the top kpop group
,
top kpop boy group
,
top kpop girl group
,
VIBE
,
VIBE members
,
VIBE news