Kpop group MONSTA X is showing their impeccable growth as an artist. According to the official Twitter account of the 'MTV Video Music Award' (VMA) on August 12th, MONSTA X's first title song, 'GAMBLER' produced by Jooheon, is one of the nominees in the '2021 MTV Video Music Awards' 'Best K-Pop' category.
The music awards 'VMA,' hosted by MTV in the US every year since 1984, is one of the most influential music awards in the US. It's just like the Grammy Awards, American Music Awards (AMAs), and Billboard Music Awards (BBMA).
Expectations are rising whether MONSTA X, a nominee along with prominent domestic K-pop artists and achieved remarkable results in Korea and abroad, will be able to write another new global history through '2021 MTV VMA.'
In addition, Kpop group MONSTA X also received a Platinum badge in the Gaon-certified album category for 'One Of A Kind.'
Gaon Chart's Platinum is a certification granted when album sales exceed 250,000 copies. MONSTA X achieved a platinum badge by breaking its own best Initial period record through 'One Of A Kind' containing Jooheon's first title, 'GAMBLER.'
So, it adds meaning to the song.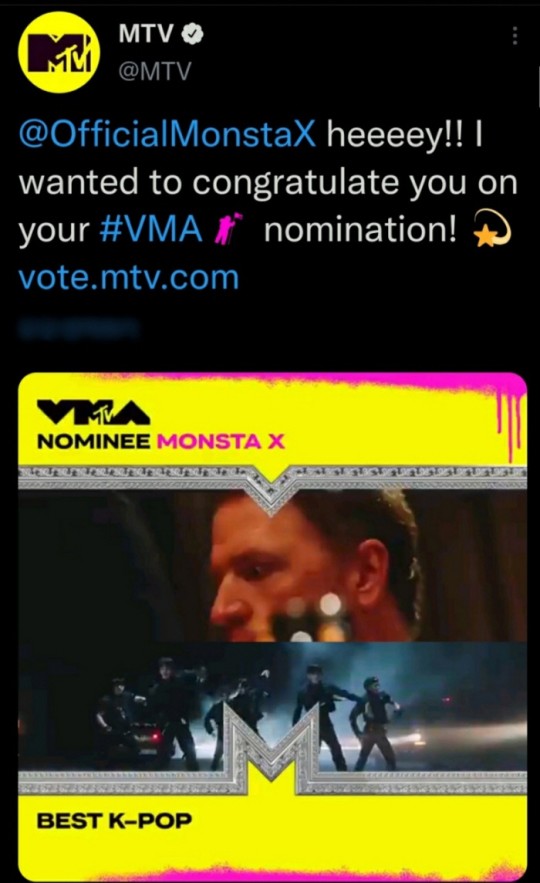 As such, even after the end of 'GAMBLER' activities, MONSTA X is receiving constant attention in Korea and abroad. Recently, Forbes, an American economic magazine, said, "MONSTA X will be on the Billboard World Digital Song Sales Chart in 2021 with 'GAMBLER,' 'Nobody Else,' 'Addicted,' 'Secrets,' 'Night View,' etc. In fact, they ranked a total of 16 songs on the top of the charts."
Particularly, the 16 tracks that entered World Digital Song Sales Chart include self-composed songs by Jooheon, Hyungwon, and I.M.
It only proves their strong potential, steadily filling their albums with the 'MONSTA X genre.'
MONSTA X showed cascading growth since its debut. They began to show their unrivaled presence with the US full-length album 'ALL ABOUT LUV,' released in 2020. The album climbed from #5 on the Billboard 200, the main album chart, to the top ten on seven Billboard charts. It is also one Time Magazine's 'K-Pop Representative Song & Album' and Pop Crush's '2020 Best Album 25.'
Not only the group but I.M's solo performance achieved remarkable results. I.M filled all the songs of his solo album 'DUALITY,' released in February with self-composed songs. It ranked first on the iTunes Worldwide Album Chart every day to the top album charts in 18 countries. Also, all five tracks were on the Billboard Billboard chart. He took up 20% of the World Digital Song Sales chart. So, he succeeded in causing a big sensation in his music world.
MONSTA X has monopolized the love of K-pop fans around the world with its limitless growth. They plan to continue their global activities with active music projects in the future.
Read More About: Jihoon Park Takes Another Leap Forward As A Solo Artist
KPOP
,
Kpop artist
,
Kpop artists
,
kpop monsta x
,
Kpop news
,
Kpop trend
,
Kpop trending
,
KPop trending news
,
Kpop trending now
,
kpop trending update
,
KPOP2021
,
KPOPIDA
,
KPOPNEWS
,
MONSTA X
,
monsta x kpop
,
monsta x news
,
MONSTA X news kpop
,
monsta x wonho
,
monsta x_shownu
,
Monsta XX
,
monsta_X-Kihyun
,
Monsta-X
,
MonstaX_Minhyuk
,
MTV Video Music Award
,
Official Monsta_X
,
Trending
,
trending 2021
,
trending kpop
,
Trending Kpop news
,
trending kpop update
,
trending news
,
trending update kpop