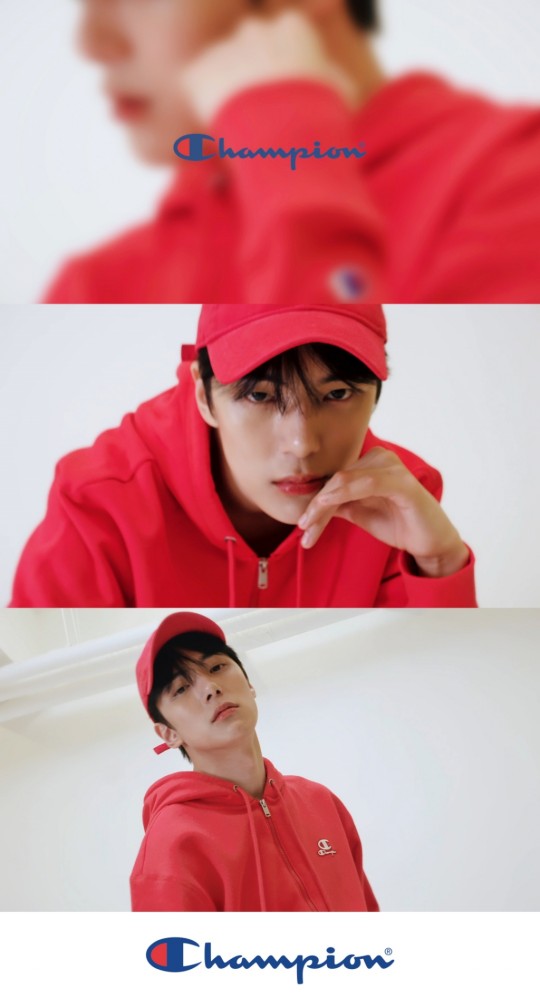 Kpop group MONSTA X member Minhyuk became the new model for Champion.
On August 13th, Starship Entertainment announced, "Minhyuk will be the Korean model for the authentic American athletic wear brand 'Champion,' a global sports casual brand."
LF is the official domestic importer of Champion. They planned the selection of this Korean model. LF said, "I think Minhyuk's confident attitude, positive, and healthy energy fit well with the image that Champion pursues."
So, through his agency, Minhyuk said, "I am very happy to be with Champion. It's the brand I love to wear even before debut."
Champion will release a teaser video with Minhyuk at 4 pm on the same day. They will post it through their official social media account. Then, on August 17th, they will unveil a teaser image of Minhyuk wearing a Champion sweatshirt. Also, from the end of August, they will release the main video and various styling pictorial images sequentially.
In fact, MONSTA X member Minhyuk perfectly captured the authentic and sporty mood of Champion in the filming. He showed affection for the brand with extraordinary enthusiasm by suggesting direct styling and monitoring from time to time.
Kpop group MONSTA X, to which Minhyuk belongs, included 'GAMBLER,' 'Nobody Else,' 'Addicted,' and 'KISS OR DEATH' on the 2021 Billboard World Digital Song Sales Chart. They placed a total of 16 songs at the top of the charts. They are boasting their dignity of a 'global trending group.'
As of now, Minhyuk is the host of Naver NOW's 'Vogue Ship Show,' the season 2 of 'Our Neighborhood Class,' and MBC's web variety show 'Back to the Idol.'
In addition, aside from appearing in various broadcast programs, he continues to be an all-round entertainer. He is showing his presence in the fashion and advertising world.
Read More About: Dreamcatcher Featured On Esquire Korea Magazine
fashion
,
fashion kpop
,
K FASHION
,
K-Fashion
,
KFashion
,
KISS OR DEATH mONSTA X
,
KPOP
,
Kpop artist
,
Kpop artists
,
Kpop fashion
,
Kpop idols
,
kpop monsta x
,
Kpop news
,
Kpop trend
,
Kpop trending
,
KPop trending news
,
Kpop trending now
,
kpop trending update
,
KPOP2021
,
KPOPIDA
,
KPOPNEWS
,
Minhyuk_Monsta X
,
MONSTA X
,
monsta x kpop
,
monsta x news
,
MONSTA X news kpop
,
Monsta XX
,
Monsta-X
,
MonstaX_Minhyuk
,
Official Monsta_X
,
Trending
,
trending 2021
,
trending kpop
,
Trending Kpop news
,
trending kpop update
,
trending news
,
trending update kpop