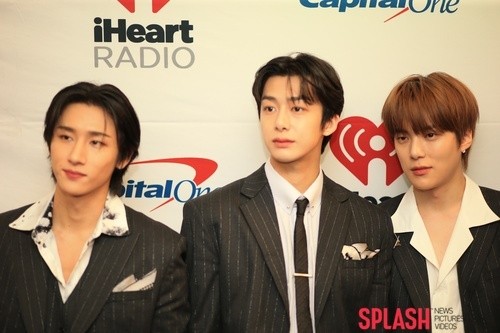 The Kpop group MONSTA X was captured in Philadelphia, USA. The US entertainment media 'Splash' spotted the MONSTA X members on the red carpet for the iHeartRadio '2021 Jingle Ball Tour.'
The event took place at Wells Fargo Center in Philadelphia, Pennsylvania, USA, on December 13 (US time).
According to 'Splash,' MONSTA X members posed in front of the camera on the red carpet as participants on the Jingle Ball tour. The shining looks of members I.M, Hyungwon, and Minhyuk are eye-catching.
So, after attending the Jingle Ball tour for the first time among Kpop groups in 2018, they proved to be a global trend by putting their name on the participating list in 2019 and 2021.
Meanwhile, Kpop group MONSTA X departed for the US schedule on December 6 (KST). They released their second full-length album, 'THE DREAMING,' in the US on December 10. Also, starting with Philadelphia on December 13 (US time), they will be attending the Jingle Ball tour in Washington DC on December 14. Then, they will attend the Jingle Ball tour in Atlanta on December 16 and Miami on December 19.
Read More About: Youngwoong Lim Fans Club Donates 7 Million Won To Support Single-Parents In Need
best Kpop girl group
,
best kpop news site
,
best kpopstar
,
breaking news kpop
,
daily kpop news
,
Fandom
,
Jooheon
,
Kihyun_Monsta_X
,
Kiss Or Death
,
KISS OR DEATH mONSTA X
,
Korean celeb news
,
Korean singer
,
Korean singer songwriter
,
KPOP
,
Kpop album
,
Kpop beauty routine
,
Kpop boy group
,
kpop celebrity news
,
Kpop chart and news
,
Kpop colllaboration
,
KPOP comeback
,
Kpop current news
,
kpop daily news
,
Kpop fashion
,
Kpop girls group
,
Kpop group MONSTA X
,
Kpop idols
,
Kpop issues
,
Kpop latest news
,
kpop monsta x
,
Kpop music chart
,
Kpop news
,
Kpop news articles
,
kpop news daily
,
Kpop news sites
,
kpop news update
,
Kpop recent news
,
Kpop skin care routine
,
Kpop skincare routine
,
KPop trending news
,
KPOPNEWS
,
Minhyuk_Monsta X
,
MONSTA X
,
MONSTA X I.M
,
monsta x kpop
,
MONSTA X member
,
MONSTA X members
,
monsta x news
,
MONSTA X news kpop
,
MONSTA X updates
,
monsta x wonho
,
monsta x_shownu
,
Monsta XX
,
monsta_X-Kihyun
,
Monsta-X
,
MonstaX_Minhyuk
,
Official Monsta_X
,
South Korean singer songwriter
,
Summer Taste
,
the best kpop girl group
,
the best kpop girl group of 2021
,
the best kpop group of 2021
,
the top kpop group
,
top kpop boy group
,
top kpop girl group
,
Trending Kpop news