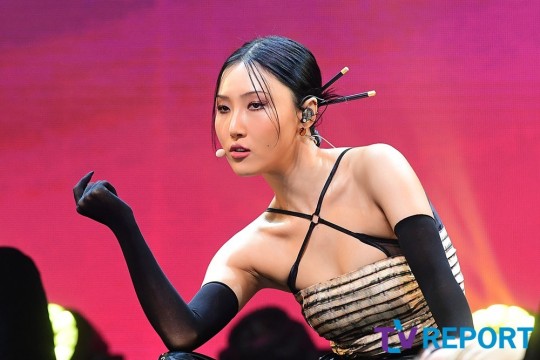 Hwasa starts her brilliant return! Kpop group MAMAMOO member Hwasa came back as a solo artist, this time with a more intense charm. She held a showcase to celebrate the release of her second single album 'Guilty Pleasure' at Yes24 Live Hall in Gwangjin-gu, Seoul, on November 24.
Hwasa gained tremendous popularity with her first mini-album, 'Maria', last year. She gave a unique meaning to her new song after a year and five months. She said, "Hwasa from the past, Hwasa from the present, and I wandered a lot to achieve musical growth." 
Notably, the second single album, 'Guilty Pleasure,' is a song that touches the current Hwasa's feelings. The title song 'I'm A Light' has a trendy sound and addictive hooks. In fact, Hwasa participated in the lyrics of the song.
Hwasa said, "I worked with a foreign producer for the first time as a soloist. I put the story of being sensitive in the process of overworking and asking for understanding me about missing happiness around me as a 'light.'"
Hwasa has performed a series of hit songs. But, she will also be under a lot of pressure. She said, "I'm determined! I thought it was okay if the performance was fun, but this time it wasn't. It is true that it was too burdensome. It's not easy to control my mind, but I'm determined," she said honestly.
She added, "I want to run as much as I wander. My goal is to find my own sense of balance. I'm slowly regaining my balance while preparing for this album, leaving behind my feelings of being down."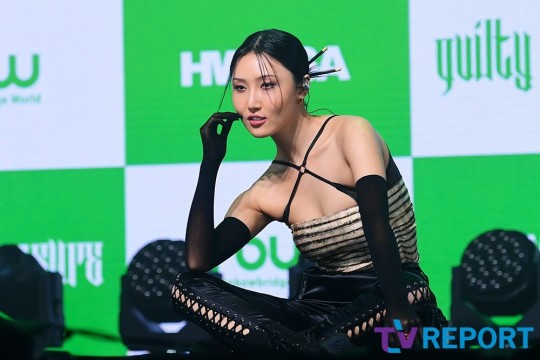 Kpop group MAMAMOO member Hwasa will release her second single album, 'Guilty Pleasure,' on various music sites at 6 pm today, November 24.
The album includes a total of three songs: the title song 'I'm A Light,' 'FOMO,' and 'Bless U.'
Read More About: SHINee Minho To Hold A Solo Fan Meeting On December 21
2021 kpop news
,
2021 kpop news updates
,
2021 news kpop
,
best kpop news site
,
daily kpop news
,
girl group MAMAMOO
,
hwasa mamamoo
,
hwasa_mamamoo
,
Korean celeb news
,
KPOP
,
Kpop 2021
,
Kpop artist
,
Kpop artists
,
kpop celebrity news
,
kpop daily news
,
Kpop group MAMAMOO
,
Kpop idols
,
Kpop latest news
,
kpop mamamoo
,
Kpop news
,
Kpop news articles
,
kpop news update
,
Kpop recent news
,
KPop treasure
,
Kpop trend
,
Kpop trending
,
KPop trending news
,
Kpop trending now
,
kpop trending update
,
KPOP2021
,
KPOPIDA
,
KPOPNEWS
,
Kpopnews 2021
,
latest kpop news
,
mamamoo
,
mamamoo kpop
,
MAMAMOO members
,
mamamoo moonbyul
,
MAMAMOO news
,
mamamoo updates
,
mamamoo wheein
,
mamamoo wheein news
,
Mamamoo_hwasa
,
Mamamoo_Moonbyul
,
Mamamoo_Solar
,
MAMAMOO_WAW
,
Mamamoo_Wheein
,
recent kpop news
,
Solar of Mamamoo
,
Trending
,
trending 2021
,
trending kpop
,
Trending Kpop news
,
trending kpop update
,
trending news
,
trending update kpop
,
wheein mamamoo