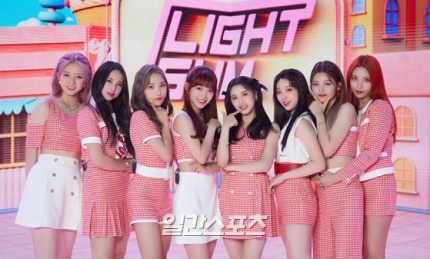 LIGHTSUM shared their feelings about their debut.
On June 10th, LIGHTSUM held an online showcase announcing the release of their debut single, 'Vanilla.' It is a girl group that Cube Entertainment has formed after 3 years following (G)I-DLE in 2018. So, a lot of interest has been gathered. LIGHTSUM consists of 8 members: Sangah, Chowon, Nayoung, Hina, Juhyeon, Yujeong, Huiyeon, and Jian. On this day, Chowon said in a trembling voice, "I was in the practice room until yesterday. But I can't believe we are standing on the debut showcase stage now. We've prepared really hard and a lot, so please look forward to it."
Juhyeon also said, "It's a debut stage we've been looking forward to so much. So, I'm still confused about how many seats there are. Then, Sanga expressed her determination, "I'm so nervous. I worked with the members every day, sweating every day. We will definitely show you great performances."
The debut song 'Vanilla' contains the meaning that LIGHTSUM's special and thrilling vanilla flavor becomes a magical gift on an ordinary day. It is a song that expresses the thrill of tension when starting something new with the sweetness of the moment you fall in love. As composers, STEVEN LEE, who created OH MY GIRL's 'Nonstop' and 'Secret Garden,' wrote the song for LIGHTSUM. Also, British composer J. Littlewood and Swedish singer-songwriter Caroline Gustavsson, who produced songs for Girls' Generation, AOA, and GFRIEND, participated. In short, leading songwriters both locally and abroad gathered together for the song's completion.
LIGHTSUM will release the song at 6pm.
Read More About: LUCY 4th Single 'Gatcha!' Tracklist Released
2021 kpop updates
,
KPOP
,
Kpop 2021
,
Kpop artist
,
Kpop artists
,
Kpop idols
,
kpop LIGHTSUM news
,
Kpop news
,
Kpop trend
,
Kpop trending
,
KPop trending news
,
Kpop trending now
,
KPOP2021
,
Kpopall
,
KPOPIDA
,
KPOPNEWS
,
lightsum
,
LIGHTSUM kpop
,
LIGHTSUM kpop update
,
LIGHTSUM neews
,
new kpop girl group LIGHTSUM
,
rookie lightsum
,
trending kpop
,
Trending Kpop news
,
trending kpop update
,
trending update kpop