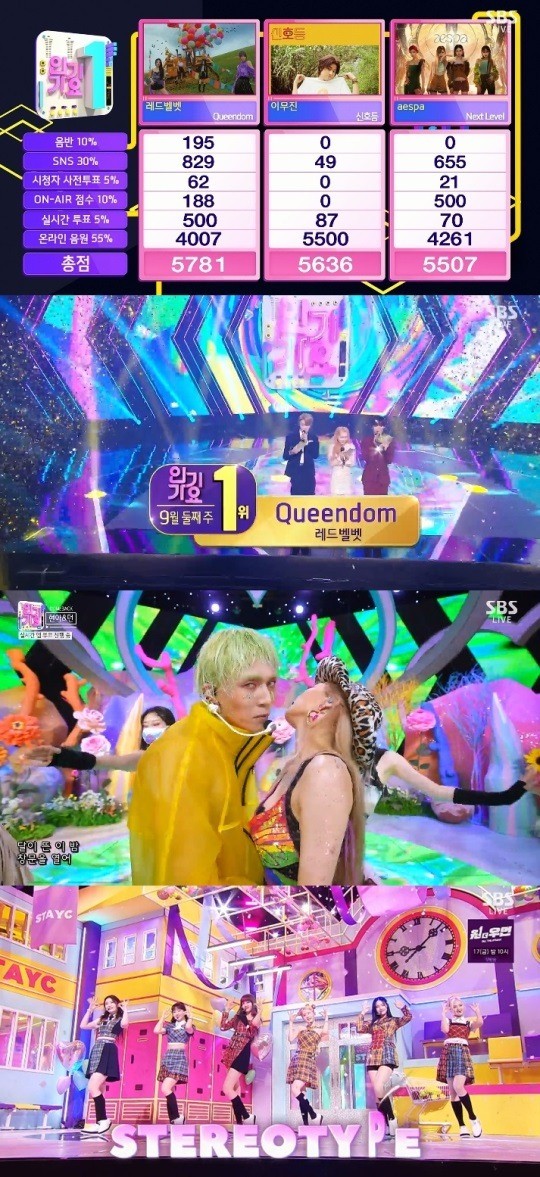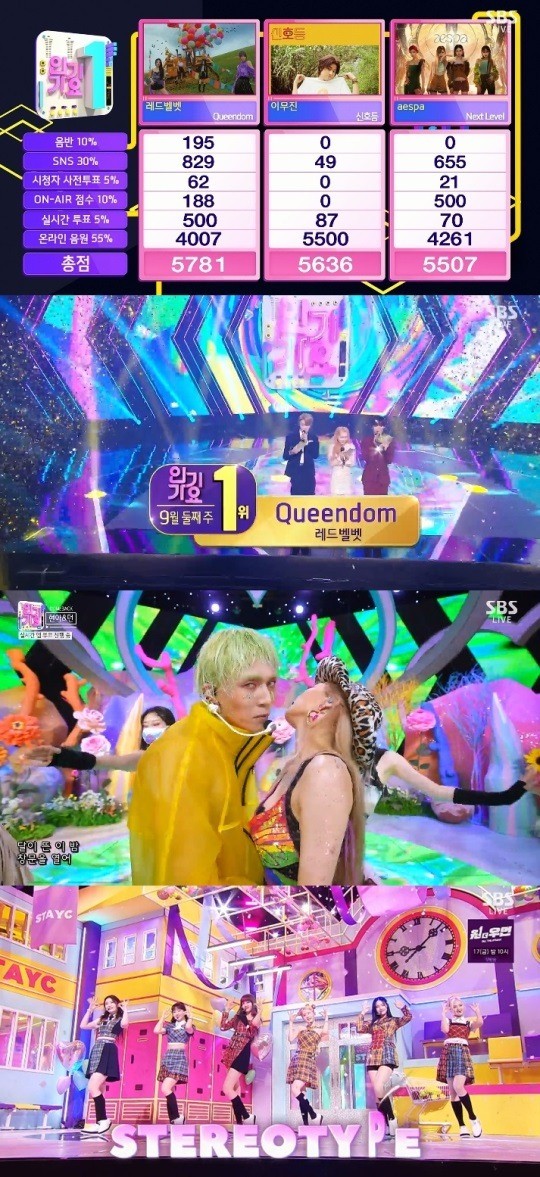 Kpop group Red Velvet wins 1st place in a music broadcast. SBS's Inkigayo, which aired live on the afternoon of September 12th, showed various performances of Kpop singers and idols. The hosts, including TREASURE JIHOON, NCT SUNGCHAN, and special host STAYC SIEUN were in charge of the broadcast that day.
Red Velvet's 'Queendom,' Mujin Lee's 'Traffic Light' and AESPA's 'Next Level' were candidates for 1st place on 'Inkigayo' on this day. Soon after, Red Velvet wins 1st place.
Particularly, on this day, Kpop group STAYC and singers Lee Hi, Ayeon Baek, Sungmin, and Young K showed their comeback performances.
On this day, STAYC went up to the stage with a fresh, lively, and unique charm. The title song 'STEREOTYPE' contains STAYC's unique elegance based on the group's special signature 'TEENFRESH' genre. Rather than judging our colors in stereotypes, they convey the message that we have various styles and essences.
In addition, Kpop singers Lee Hi, Ayeon Baek, and Sungmin captured the attention of viewers with their unique vocal styles.
Also, Singers Hyuna & Dawn showed a splendid performance, which attracted the attention of music fans. Hyuna & Dawn's title song, 'Ping Pong,' is a Moombahton Dance song. It has a strong lead sound composed of Moombahton Rhythm and 808 Bass. Dawn and Hyuna jointly wrote the song. It expresses the figure of a person in love with cute and popping lyrics, like a ping-pong ball moving back and forth.
In addition, performances such as BTOB's 'OUTSIDER' and Eunbi Kwon's 'Door' continued to add to the fun of watching.
Meanwhile, on this day's 'Inkigayo,' Kpop singers Hyuna & Dawn, Lee Hi, Ayeon Baek, Sungmin, OMEGA X, Purple Kiss, Young K, ICHILLIN, BTOB, Stray Kids, Eunbi Kwon, Fromis_9, Kichan Lee, MCND, Eunsang Lee, and CRAVITY appeared.
Read More About: MAMAMOO, Refreshing & Chic Concept Photo Released!
ayeon baek
,
Ayeon Baek album release
,
Ayeon Baek comeback
,
Ayeon Baek news
,
Ayeon Baek observe
,
INKIGAYO
,
Joy_Red velvet
,
KPOP
,
Kpop 2021
,
Kpop artist
,
Kpop artists
,
kpop Ayeon Baek kpop singer Ayeon Baek
,
Kpop group Red Velvet
,
Kpop group STAYC
,
Kpop idols
,
Kpop news
,
kpop red velvet
,
Kpop singer Ayeon Baek
,
kpop stayc
,
Kpop trend
,
Kpop trending
,
KPop trending news
,
Kpop trending now
,
kpop trending update
,
KPOP_Red Velvet
,
Kpop_StayC
,
KPOP2021
,
Kpopall
,
KPOPIDA
,
KPOPNEWS
,
Kpopstar
,
Kpopstars
,
red velvet
,
Red Velvet members
,
red velvet news
,
RED VELVET SEULGI
,
red velvet yeri
,
red velvet_Joy
,
red velvet_wendy
,
Red Velvet_Yeri
,
red velvet-seulgi
,
RED_VELVET
,
RED_VELVET_IRENE
,
RED_VELVET_Joy
,
Red_Velvet_Seulgi
,
Redvelvet
,
SB Inkigayo
,
SBS Inkigayo
,
singer Ayeon Baek
,
StayC
,
StayC comeback
,
stayc staydom
,
stayc_asap
,
Trending
,
trending 2021
,
trending kpop
,
Trending Kpop news
,
trending kpop update
,
trending news
,
trending update kpop
,
wendy red velvet