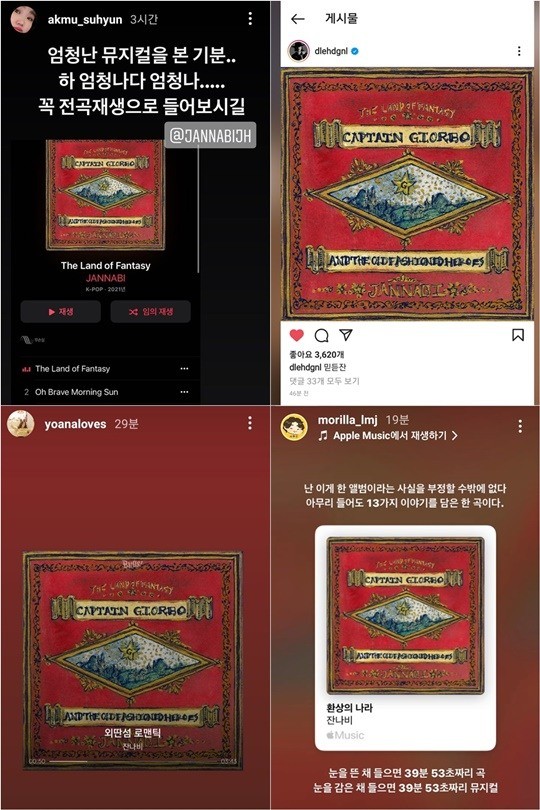 Jannabi's (Junghoon Choi) new album is getting a hot response. Celebrities like AKMU, Donghwi Lee, Ravi, and many more are showing their support.
Jannabi's third full-length album, 'The Land Of Fantasy: Captain Giorbo And The Old Fashioned Heroes', has settled at the top of major real-time music charts in Korea.
Also, it continues long-run popularity. Then, celebrities in the entertainment industry showed their support by directly streaming through their personal social media accounts.
AKMU's Suhyun said, "It feels like I've seen a great musical. That's incredible. So, I hope you listen to all the songs on the playlist," she said, actively promoting the album. In fact, actor Donghwi Lee praised Jannabi's 'The Land Of Fantasy' with one short and strong word, 'Believe and listen.'
Ravi also said, "Let's go to the land of fantasy. Junghoon's lyrics are always…" Then, he added a thumb emoji to express his appreciation.
Also, Mujin Lee said, "I have no choice but to deny that this is one album. It's a song that has 13 stories no matter how much I listen to it."
He said it, expressing surprise at the completeness of the 'The Land Of Fantasy' album.
In addition, celebrities in various fields such as actress Ryeowon Jung, AKMU Chanhyuk, Simon Dominic, Code Kunst, Melomance Minseok Kim, Car the Garden, Seungyoon Lee showed their support.
'The Land of Fantasy' is a new full-length album released by Jannabi about 2 years and 4 months after the 2nd regular album 'Legend,' released in March 2019. It contains a total of 13 tracks, including the title song 'I Know Where the Rainbow Has Fallen.'
'I Know Where the Rainbow Has Fallen' is a refreshing ballad song. Jannabi dedicates the song to those who still dream, who have always embraced each other's hands in courage.
Jannabi communicates with fans through various performances and broadcasting activities through ' I Know Where the Rainbow Has Fallen.'
You can watch it here.
Read More About: LUCY Performed Pop Hits Songs Mashup On 'M Countdown'
2021 kpop
,
2021 kpop news
,
2021 kpop news updates
,
2021 kpop updates
,
2021 news kpop
,
2021 updates on kpop
,
akmu chanhyuk
,
akmu suhyun
,
jannabi
,
Jannabi singer
,
Jannabi_3rd album
,
Jannabi_The Land Of Fantasy
,
Jung ryeowon
,
junghoon Choi
,
KPOP
,
Kpop 2021
,
Kpop artist
,
Kpop artists
,
kpop jannabi
,
Kpop news
,
Kpop trend
,
Kpop trending
,
KPop trending news
,
Kpop trending now
,
kpop trending update
,
KPOP2021
,
KPOPIDA
,
KPOPNEWS
,
Trending
,
trending 2021
,
trending kpop
,
Trending Kpop news
,
trending kpop update
,
trending news
,
trending update kpop