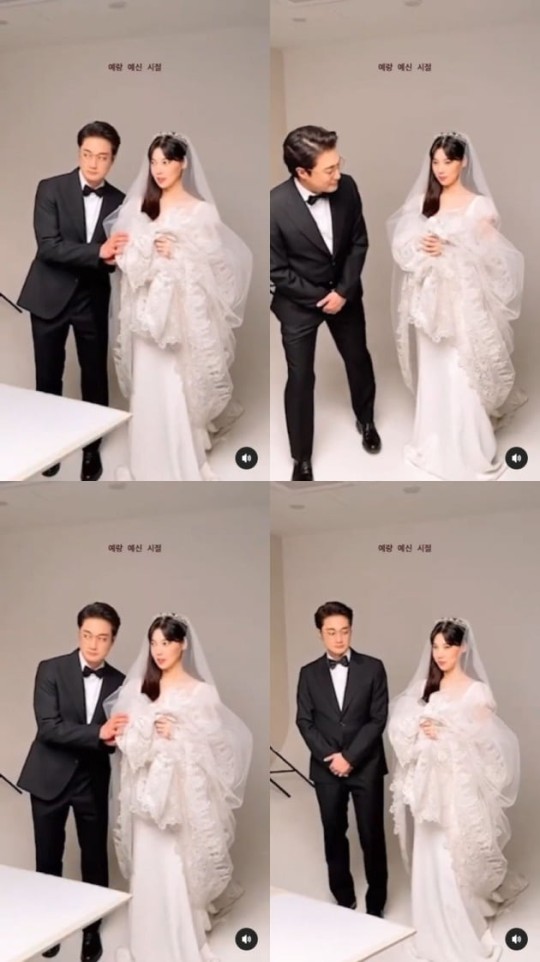 Musical actress Dahae Bae released a behind-the-scenes video of their wedding shoot with Kpop singer Jangwon Lee.
On December 28, Dahae posted a video on her Instagram with the caption, "Yerang Ye-shin."
The video showed Dahae and Jangwon shooting a wedding pictorial. Dahae Bae, wearing a pure white dress, shows off her elegance, while Jangwon Lee, dressed in a suit, boasts a neat and handsome appearance. Jangwon reveals his sweet aspect of confirming the appearance of Dahae from time to time during filming. The appearance of the newlyweds catches the eyes of the fans.
Kpop singer Jangwon Lee and Dahae Bae recently had a wedding. Born in 1983, Dahae Bae debuted as a member of Vanilla Lucy and graduated from Yonsei University College Of Music. Born in 1981, Jangwon Lee is a member of Peppertones and a graduate of KAIST's computer science department.
Read More About: 'NCT Resonance' Live Concert Will Be Broadcast Through CGV On January 12
2021 kpop news
,
2021 kpop news updates
,
best Kpop girl group
,
best kpop news site
,
best kpopstar
,
breaking news kpop
,
daily kpop news
,
Fandom
,
Gwangil Shin
,
I Got U
,
K-BAND
,
Korean celeb news
,
Korean singer
,
Korean singer songwriter
,
KPOP
,
Kpop album
,
Kpop artist
,
Kpop artists
,
Kpop beauty routine
,
Kpop boy group
,
kpop celebrity news
,
Kpop chart and news
,
Kpop colllaboration
,
KPOP comeback
,
Kpop current news
,
kpop daily news
,
Kpop fashion
,
Kpop girls group
,
Kpop idols
,
Kpop issues
,
Kpop latest news
,
kpop LUCY
,
Kpop music chart
,
Kpop news
,
Kpop news articles
,
Kpop news sites
,
kpop news update
,
Kpop recent news
,
Kpop skin care routine
,
Kpop skincare routine
,
Kpop trend
,
Kpop trending
,
KPop trending news
,
Kpop trending now
,
KPOP2021
,
KPOPIDA
,
KPOPNEWS
,
lucy
,
LUCY KPOP
,
LUCY kpop album
,
Sangyeop Choi
,
South Korean singer songwriter
,
the best kpop girl group
,
the best kpop girl group of 2021
,
the best kpop group of 2021
,
the top kpop group
,
top kpop boy group
,
top kpop girl group
,
trending kpop
,
Trending Kpop news
,
trending kpop update
,
trending news
,
trending update kpop
,
Wonsang Cho
,
Yechan Shin