The six-member rookie girl group IVE members revealed their daily life as a trainee. On the afternoon of January 3, IVE's own reality content, '1,2,3 IVE', was released through the official YouTube channel of IVE (Yujin, Gaeul, Rei, Wonyoung, Liz, and Leeseo).
On this day, the second story of 'IVE Log,' which contains the members' daily life, unfolded. First, Yujin and Liz went on a bucket-list night drive. They came up with a unit name on the spot and listened to the song, immersed in their emotions. After arriving at the cafe, the two had a short healing time amid their busy schedules and built precious memories.
Then, Rei and Wonyoung performed a situational play for DIVE (fan club), who was curious about how they were dressed in school uniforms. The two showed off their sweet chemistry by showing 'What's In My Bag,' which introduces the belongings of the bag and their daily life.
Gaeul and Leeseo talked about their daily lives receiving choreography lessons. Through NCT U's 'BOSS' dance cover, the two showed off their sophisticated performances and charismatic facial expressions. They are proving their skills that were different from when they were trainees.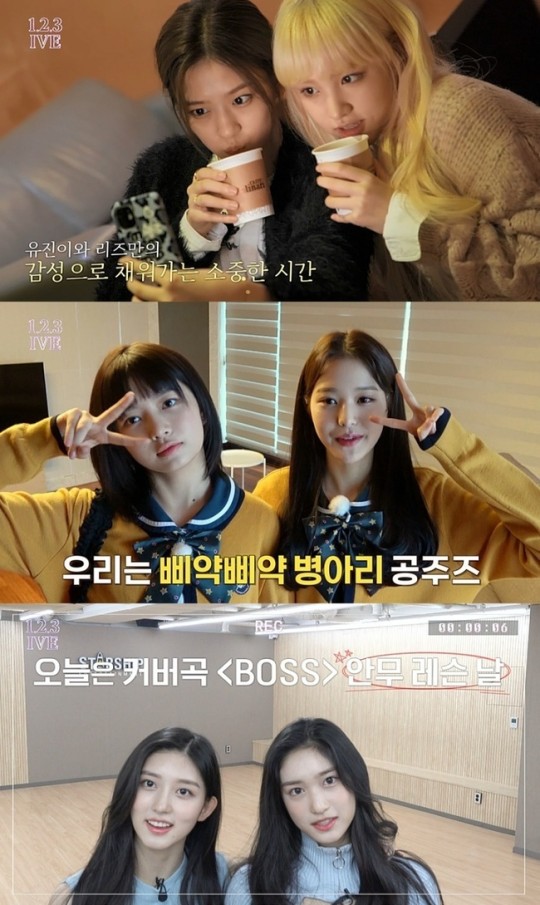 In addition, IVE strengthened their physical strength through Pilates and PT, and showed thorough self-management. Afterwards, the members gathered in the practice room. They continued to practice their debut song, 'ELEVEN,' under the leadership of Yujin. They did their best to improve the perfection of the performance by repeating the practice.
Among them, Rei, who was not in good condition, left for a while and shed tears in an upset heart. Rei said, "I had to control (the pain) well." 
Then, Yujin responded, "We are a team, and if you are sick, it is right for everyone to wait together. You don't have to worry about practice," she said, creating a warm feeling as a strong leader who reads through the members.
IVE released 'ELEVEN' on December 1 and took the first step in the music industry. They have been captivating the music industry with their terrifying growth. In fact, IVE recorded the highest Initial first-week sales among rookie groups that debuted in 2021. They sold more than 150,000 copies and are cruising at the top of the domestic music charts and winning five music broadcasts with the album's title song, 'ELEVEN.'
In addition, IVE proved the modifier 'complete group' by showing its presence in global charts such as Billboard, Spotify, China QQ Music, Japan Line Music, Billboard Japan, YouTube Music, and Tidal amid the spotlight of leading overseas media.
Rookie girl group IVE meets fans through its own reality show '1, 2, 3 IVE' and various contents.
Read More About: Minho Jang Releases His First Mini-Album Filled With Various Genres
best Kpop girl group
,
best kpop news site
,
best kpopstar
,
breaking news kpop
,
daily kpop news
,
Fandom
,
Hip-hop Idol JIN
,
Jin
,
JIN news
,
Korean celeb news
,
Korean singer
,
Korean singer songwriter
,
KPOP
,
Kpop album
,
Kpop beauty routine
,
Kpop boy group
,
kpop celebrity news
,
Kpop chart and news
,
Kpop colllaboration
,
KPOP comeback
,
Kpop current news
,
kpop daily news
,
Kpop fashion
,
Kpop girls group
,
kpop idol JIN
,
Kpop idols
,
Kpop issues
,
Kpop latest news
,
Kpop music chart
,
Kpop news
,
Kpop news articles
,
Kpop news sites
,
kpop news update
,
Kpop recent news
,
Kpop skin care routine
,
Kpop skincare routine
,
KPop trending news
,
KPOPNEWS
,
Singer JIN
,
South Korean singer songwriter
,
the best kpop girl group
,
the best kpop girl group of 2021
,
the best kpop group of 2021
,
the top kpop group
,
top kpop boy group
,
top kpop girl group