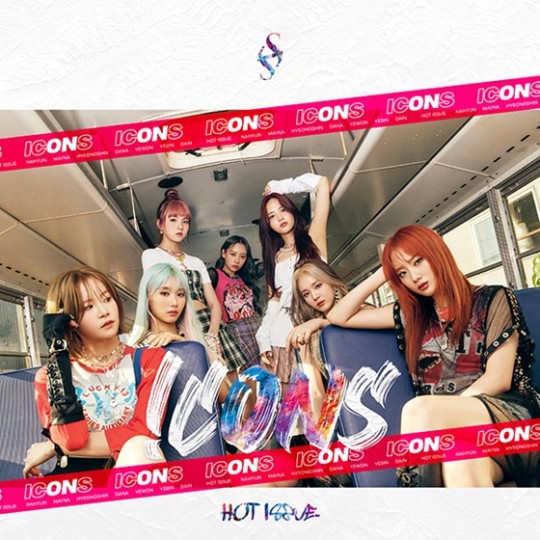 The Kpop group HOT ISSUE returns with a new song that contains the prowess of the MZ generation. HOT ISSUE will release the new album 'ICONS' through various online music sites at 6:00 pm on September 29. This will be their comeback to the music scene. The album contains a message that 'Anyone is special and can become an icon.'
It includes two title songs of the same name and 'Hot Candy.'
The title song 'ICONS' is a hip-hop genre-based dance song centered on the addictive flute lead. You can feel fresh with parts converted to the Moombahton genre in the middle of the song. Its catchy melody and addictive hooks are impressive. In addition, the members' voices perfectly digest between rap and harmony, without a fixed position. So, it raises expectations as another attractive point of listening to the song.
The lyrics that conform to the musical theme of the HOT ISSUE, the prowess, and honesty, also stand out. The existence of 'I' looks as simple and slender as a flower in a greenhouse. The lyrics express that you can break the rules and change the world with your own style. This will surely attract more attention with the intense charm of HOT ISSUE. In this song, STAINBOYS and Anna Timgren, who created hits of top idols such as OH MY GIRL, Chungha, LOONA, and Weeekly, participated in enhancing the musical perfection further.
In the 'ICONS' music video, the powerful melody and lyrics of the song enhance the strong atmosphere with the intense colors and spatial composition of the primary colors. Also, it shows how HOT ISSUE members face up for freedom and a new world that is gradually changing due to them.
The track 'Hot Candy' is a track-pop genre song with an impressive introduction that begins with a dreamy fluff sound. It was compared to 'Hot,' which represents the intense energy of HOT ISSUE and the confidence that you cannot break up once you fall into 'Candy.'
They convert this song into a future base genre with chic and attractive HOT ISSUE members. It multiplies the song's charm with fresh development and gives listeners a fun listening experience with adlib parts that reveal its presence in the middle of each song.
Kpop group HOT ISSUE debuted last April with the album, 'ISSUE MAKER' and the title song 'GRTATATA.'
They showed an unrivaled identity, strong musical style, and colorful charm. So, they emerged as a "hot issue" at the same time. Through this album, HOT ISSUE expressed their ambition to captivate the public with their musical competence and performance, which is their greatest strength.
Kpop group HOT ISSUE will open a showcase on this day and begin full-scale activities.
Read More About: SEVENTEEN 'Attacca' Concept Trailer Released
2021 kpop news
,
2021 kpop news updates
,
2021 news kpop
,
best kpop news site
,
daily kpop news
,
HOT ISSSUE_Yewon
,
HOT ISSUE
,
HOT ISSUE Cover songs
,
HOT ISSUE debut
,
HOT ISSUE kpop
,
HOT ISSUE NEWS
,
HOT ISSUE_Dain
,
HOT ISSUE_Dana
,
HOT ISSUE_Gratata
,
HOT ISSUE_Hyeongshin
,
HOT ISSUE_Meina
,
HOT ISSUE_Nahyun
,
HOT ISSUE_Yebin
,
Korean celeb news
,
KPOP
,
Kpop artist
,
Kpop artists
,
kpop celebrity news
,
kpop daily news
,
KPOP HOT ISSUE
,
Kpop hottest
,
Kpop hottest girl group
,
Kpop hottest singer
,
Kpop idols
,
Kpop latest news
,
Kpop news
,
Kpop recent news
,
Kpop trend
,
Kpop trending
,
KPop trending news
,
Kpop trending now
,
KPOP_HOT ISSUE
,
KPOP2021
,
KPOPIDA
,
KPOPNEWS
,
Kpopnews 2021
,
Kpopnews2021
,
latest kpop news
,
recent kpop news
,
trending kpop
,
Trending Kpop news
,
trending kpop update
,
trending news
,
trending update kpop