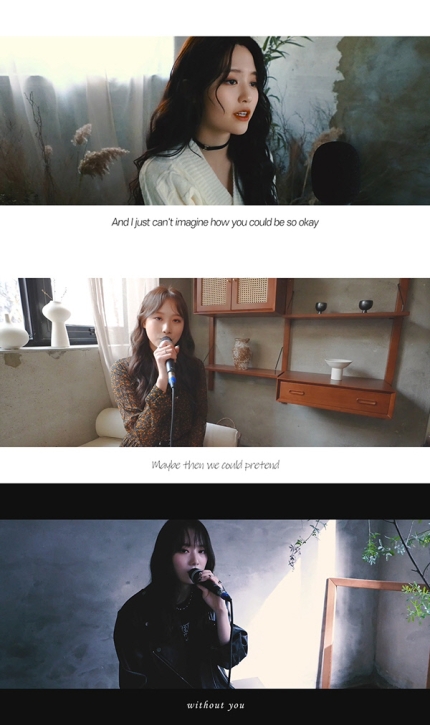 HOT ISSUE, Korean girl group, opened their live cover video featuring Yewon, Dana, and Nahyun.
From March 29th to 31st, the cover videos of Hot Issue's vocal line members Dana, Yewon, and Nahyun were released through their official SNS.
HOT ISSUE member Dana, the first runner, selected Olivia Rodrigo's song 'Drivers License.' It has become the number one track on the US Billboard Chart for 8 consecutive weeks. Dana completed an attractive stage with her own unique tone.
Next, member Yewon showed off her pure beauty through Sabrina Carpenter's 'Skin.'
It captured the hearts of fans with its unshakable singing ability. Yewon dedicates a sweet stage while switching between high and low notes.
Member Nahyun, the last runner, drew the finale with The Kid LAROI's 'WITHOUT YOU.'
Her clear yet powerful voice captivates the ears. Nahyun's strong expressive power of appeal stimulated the emotional line giving deep resonance.
The vocal lines of the new girl group 'HOT ISSUE' Dana, Yewon, and Nahyun proved their excellent singing skills and charm through their cover videos. It raised expectations for their official debut.
On the other hand, HOT ISSUE is the first girl group of S2 Entertainment, newly established by Chairman Seung-Sung Hong. The group will debut this April.
Read More: Treasure's Official Debut In Japan
girl kpop
,
HOT ISSSUE_Yewon
,
HOT ISSUE
,
HOT ISSUE_Dana
,
HOT ISSUE_Nahyun
,
KPOP
,
Kpop 2021
,
Kpop artist
,
Kpop artists
,
KPOP HOT GIRLS
,
Kpop hot news
,
Kpop hottest girl group
,
Kpop hottest singer
,
Kpop idols
,
Kpop news
,
Kpop trending
,
KPop trending news
,
KPOP_HOT ISSUE
,
Kpop_news
,
KPOP2021
,
KPOPIDA
,
KPOPNEWS
,
Kpopstars