The music video for the new song by the new 7-member Kpop group HOT ISSUE has surpassed 5 million views. According to S2 Entertainment, on the afternoon of October 4, "As of the afternoon of October 3, the number of YouTube music video views of HOT ISSUE's new song 'ICONS,' released on September 27, exceeded 5 million views. It is expected to break 5.6 million views of the debut song 'GRATATA.'"
Particularly, 'ICONS' captivated the hearts of Kpop fans by recording more than 2.5 million views in 24 hours. It is rapidly increasing more than 500,000 views every day. So, expectations for achieving the 10 million views, called the scale of the popular idol group, are also increasing.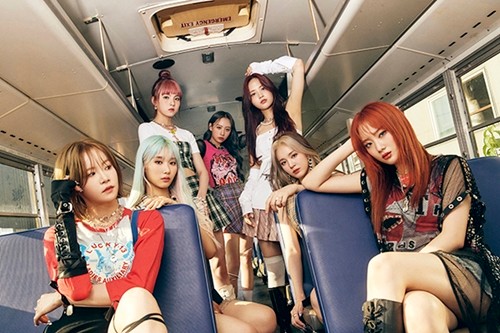 Kpop group HOT ISSUE's new song 'ICONS' contains unique confidence and honesty. Also, it conveys the existence of 'I,' who looks soft and slender like a flower in a greenhouse, can also break the rules and change the world by your own style.
The music video shows the appearance of HOT ISSUE facing freedom and the new world that is gradually changing due to them. The members expressed their colorful charm, sophisticated performance, and sensual video beauty.
Meanwhile, HOT ISSUE is meeting fans through music broadcasts and various contents.
Read More About: Purple Kiss Successfully Completed 'Zombie' Promotions
2021 kpop news
,
2021 kpop news updates
,
2021 news kpop
,
best kpop news site
,
daily kpop news
,
HOT ISSSUE_Yewon
,
HOT ISSUE
,
HOT ISSUE Cover songs
,
HOT ISSUE debut
,
HOT ISSUE kpop
,
HOT ISSUE NEWS
,
HOT ISSUE_Dana
,
HOT ISSUE_Gratata
,
HOT ISSUE_Hyeongshin
,
HOT ISSUE_Meina
,
HOT ISSUE_Nahyun
,
HOT ISSUE_Yebin
,
Korean celeb news
,
KPOP
,
Kpop 2021
,
Kpop artist
,
Kpop artists
,
kpop celebrity news
,
kpop daily news
,
Kpop hottest singer
,
Kpop idols
,
Kpop latest news
,
Kpop news
,
Kpop recent news
,
Kpop trend
,
Kpop trending
,
KPop trending news
,
Kpop trending now
,
KPOP_HOT ISSUE
,
KPOP2021
,
Kpopall
,
KPOPIDA
,
KPOPNEWS
,
Kpopnews 2021
,
Kpopnews2021
,
latest kpop news
,
recent kpop news
,
trending kpop
,
Trending Kpop news
,
trending kpop update
,
trending news