The personal concept photos of the Kpop group HOT ISSUE members have been released. On the morning of September 18th, HOT ISSUE released Hyeongshin's personal concept photo and ICONS film for their new single, 'ICONS.'
Following Nahyun and Mayna, Hyeongshin was eye-catching, showing her hip casual fashion. She is showing off her unique personality and unrivaled swag with unique two-tone hair color.
Then, on Icons Film, she stared at the camera against an unfamiliar background. She is stealing the gaze of the fans with her sophisticated walk and glances. She made a strong impression by showing a more mature mood from her energetic image in the past 'GRATATA' activity.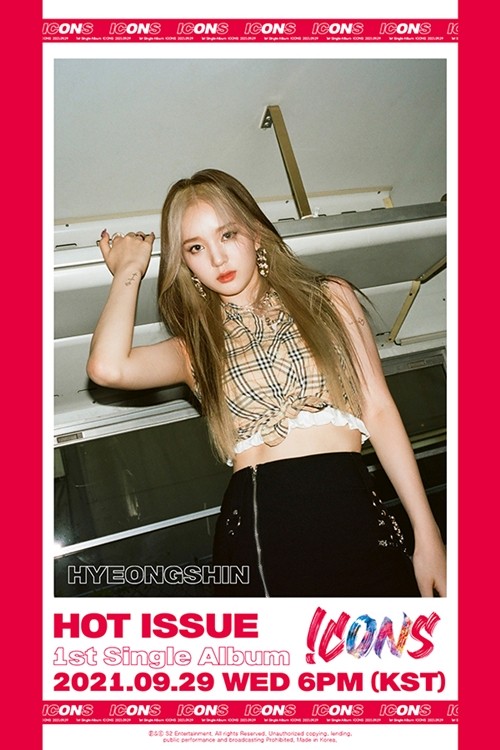 In fact, HOT ISSUE member Hyeongshin is one of the group's main dancers with Mayna and Yebin. She won the hearts of the public with her powerful performance, excellent rap skills, lively energy, and stage manners.
Earlier, Kpop group HOT ISSUE attracted the attention of Kpop fans in Korea and abroad. They showed their own identity and outstanding performance with their debut song 'GRATATA.'
They will establish themselves as a 'representative girl group' of the MZ generation through the activities of their new song 'ICONS.'
Meanwhile, the new song 'ICONS' by HOT ISSUE will be out on September 29th at 6:00 pm on various online music sites.
Read More About: T1419 'Get The Bomb' Performance Video Released!
2021 kpop news
,
2021 kpop news updates
,
2021 kpop updates
,
2021 news kpop
,
best kpop news site
,
daily kpop news
,
HOT ISSSUE_Yewon
,
HOT ISSUE
,
HOT ISSUE Cover songs
,
HOT ISSUE debut
,
HOT ISSUE kpop
,
HOT ISSUE NEWS
,
HOT ISSUE_Dana
,
HOT ISSUE_Gratata
,
HOT ISSUE_Hyeongshin
,
HOT ISSUE_Meina
,
HOT ISSUE_Nahyun
,
HOT ISSUE_Yebin
,
Korean celeb news
,
KPOP
,
Kpop 2021
,
Kpop artist
,
Kpop artists
,
kpop celebrity news
,
kpop daily news
,
Kpop idols
,
Kpop latest news
,
Kpop news
,
Kpop recent news
,
Kpop trend
,
Kpop trending
,
KPop trending news
,
Kpop trending now
,
kpop trending update
,
KPOP2021
,
Kpopall
,
KPOPIDA
,
KPOPNEWS
,
Kpopnews 2021
,
Kpopnews2021
,
latest kpop news
,
recent kpop news
,
Trending
,
trending 2021
,
trending kpop
,
Trending Kpop news
,
trending kpop update
,
trending news
,
trending update kpop