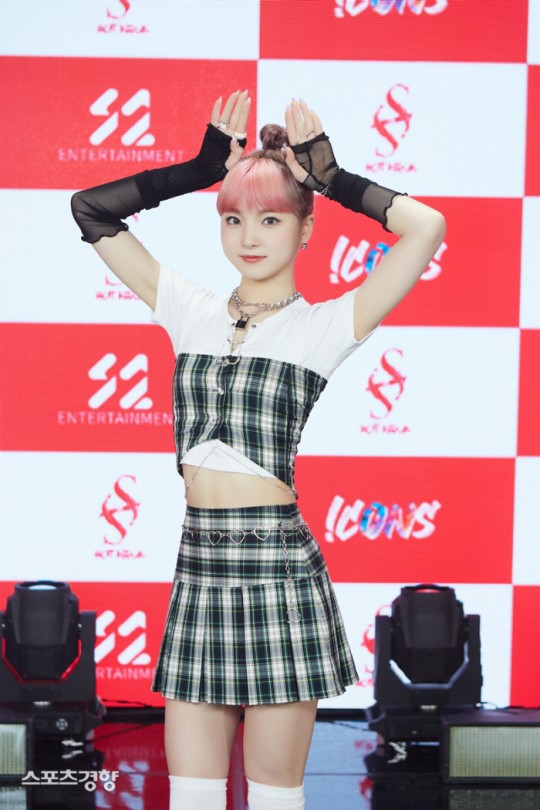 Kpop group HOT ISSUE showed their fan love. Member Nahyun said at the online showcase of the release of the new single album 'ICONS' on September 29, "We are sorry that there are few opportunities to interact directly due to COVID-19. But, we are always gaining strength through the heartfelt support of our fans."
She continued, "We are trying to overcome this by making a resolution to become a more advanced and proud artist."
"Reading the letters and cheers from the fans gave me strength," says Dain.
"I feel impressed by the letter, written in Korean, sent by an overseas fan younger than me. I promised to meet my fans, so I practiced hard while thinking about that promise,' Dain said.
"I want to have a face-to-face fan meeting with my fans when the COVID-19 is gone. I want to communicate in real-time, share emotions, and show our performance directly. I want to get some energy by listening to the fans," she added.
Kpop group HOT ISSUE's new single album, 'ICONS,' has a message that "Anyone is special and can be an icon."
It includes two title songs, 'ICONS' and 'Hot Candy.'
HOT ISSUE will release the album on various online music sites at 6:00 pm today, September 29.
Read More About: HOT ISSUE Nahyun Shared Her Impressions About Their Comeback
2021 kpop news
,
2021 kpop news updates
,
2021 kpop updates
,
2021 news kpop
,
HOT ISSSUE_Yewon
,
HOT ISSUE
,
HOT ISSUE Cover songs
,
HOT ISSUE debut
,
HOT ISSUE kpop
,
HOT ISSUE NEWS
,
HOT ISSUE_Dana
,
HOT ISSUE_Gratata
,
HOT ISSUE_Hyeongshin
,
HOT ISSUE_Meina
,
HOT ISSUE_Nahyun
,
HOT ISSUE_Yebin
,
Korean celeb news
,
KPOP
,
Kpop 2021
,
Kpop artist
,
Kpop artists
,
kpop celebrity news
,
kpop daily news
,
Kpop hottest
,
Kpop hottest girl group
,
Kpop hottest singer
,
Kpop idols
,
Kpop latest news
,
Kpop news
,
Kpop recent news
,
Kpop trend
,
Kpop trending
,
KPop trending news
,
Kpop trending now
,
KPOP_HOT ISSUE
,
KPOP2021
,
Kpopall
,
KPOPIDA
,
KPOPNEWS
,
Kpopnews 2021
,
Kpopnews2021
,
latest kpop news
,
recent kpop news
,
trending kpop
,
Trending Kpop news
,
trending kpop update
,
trending news
,
trending update kpop