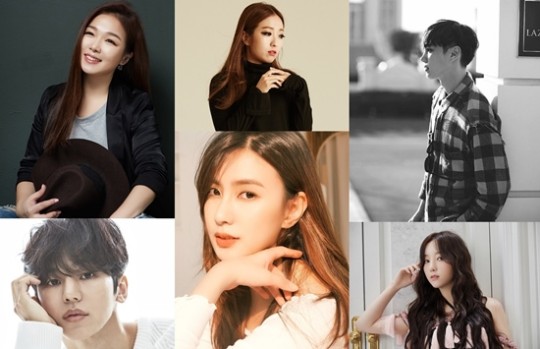 The OST lineup of the web drama 'Starting Point Of Dating (Literal title)' has been released. On June 11th, the production company The Queen AMC and Mystery Friends announced, "Youngeun Seo, Jung In, Apink Hayoung Oh, MyName's Insoo Kang, 2000 Won's Hyobin Kim, and Lovelyz Kei will join as OST singers for 'Starting Point of Dating."
Particularly, Apink Hayoung Oh and Insoo Kang, the main characters of 'Starting Point Of Dating,' directly participated in the OST singing. It is attracting the attention of viewers. Insoo Kang and Hayoung Oh plan to show the character's emotional lines in detail with a singing sweet voice. They will express the love and excitement blooming amid misunderstandings and quarrels.
In addition, Youngeun Seo and Jung In, who fans consistently loved for their outstanding singing skills and deep emotions, Hyobin Kim of 2000 Won, who participated in 'K-Pop Star 2' and made a mark on viewers, and Kei, who stood out in solo activities as the main vocalist of Lovelyz, will participate in the OSTs, which they will release later. Expectations for the music release are rising.
'Starting Point Of Dating' is a romantic comedy web drama. It is about the misunderstandings and mishaps that occur when a student on the job hunt accidentally loses her phone. Actor Seungwoo Kim is in charge of the screenplay and directing. Then, Apink Hayoung Oh, Insoo Kang, Jin Jung, and Yeji Kim will appear. Starting with the first episode's release at 6 pm on June 11th, you can watch it every Friday through the official YouTube channel 'Miniseries ON.'
Read More About: BamBam Released A Highlight Medley Film For 'riBBon'
2021 kpop news
,
2021 kpop updates
,
APINK
,
APINK 2021
,
APINK HAYOUNG
,
apink news
,
APINK OHHAYOUNG
,
INSOO KANG
,
KANG INSOO
,
KPOP
,
Kpop 2021
,
KPOP APINK
,
Kpop artist
,
Kpop artists
,
Kpop idols
,
Kpop news
,
Kpop trend
,
Kpop trending
,
KPop trending news
,
Kpop trending now
,
kpop trending update
,
KPOP2021
,
Kpopall
,
KPOPIDA
,
KPOPNEWS
,
OH HAYOUNG
,
STARTTING POINT OF DATING
,
Trending
,
trending 2021
,
trending kpop
,
Trending Kpop news
,
trending kpop update
,
trending news
,
trending update kpop
,
WEB DRAMA