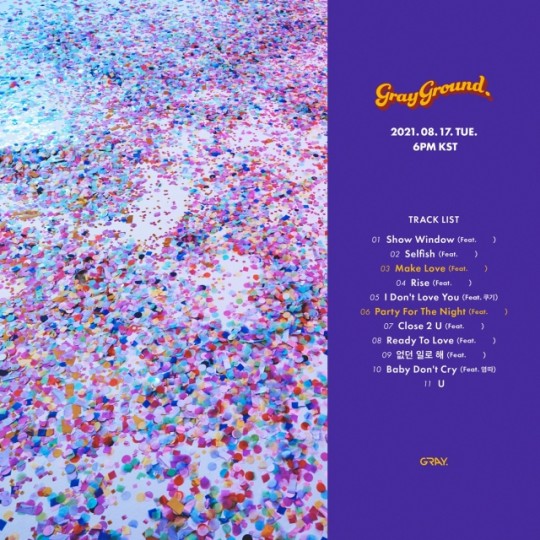 Kpop singer GRAY is back with his first full-length album. AOMG, the agency, announced on August 15th that GRAY would release his first full-length album 'Grayground.' on all music sites at 6 pm on August 17th.
'Grayground.' is Gray's first full-length album in about 9 years after debuting with the single 'Blink' in 2012. 'Make Love' and 'Party For The Night' will be the double title songs in this album. So, there are a total of 11 songs included.
According to AOMG, there's a featuring artist who participated in all songs except for 'U,' which is the last track in this album. 
In advance, Singer GRAY released the music of 'Baby Don't Cry (Feat. YUMDDA).
In 'I Don't Love You,' which he pre-released on August 10th, he collaborated with Coogie.
Read More About: Peppertones Member Jangwon Lee Announces Marriage With Dahae Bae
daily kpop news
,
daily kpop update
,
GRAY
,
Gray comeback
,
grayground.
,
Korean celeb news
,
KPOP
,
Kpop album
,
kpop album release
,
kpop albums
,
Kpop artist
,
Kpop artists
,
kpop celebrity news
,
KPOP comeback
,
Kpop daily
,
kpop daily news
,
KPOP GRAY
,
Kpop latest news
,
kpop latest updates
,
Kpop news
,
kpop news daily
,
kpop rapper gray
,
Kpop recent news
,
Kpop trending
,
KPop trending news
,
kpop trending update
,
KPOP2021
,
Kpopdaily
,
KPOPIDA
,
KPOPNEWS
,
latest kpop news
,
latest kpop updates
,
Make Love by GRAY
,
Party For The Night by GRAY
,
rapper GRAY
,
rapper GRAY news
,
recent kpop news
,
singer GRAY
,
Trending
,
trending 2021
,
trending kpop
,
Trending Kpop news
,
trending kpop update
,
trending news
,
trending update kpop