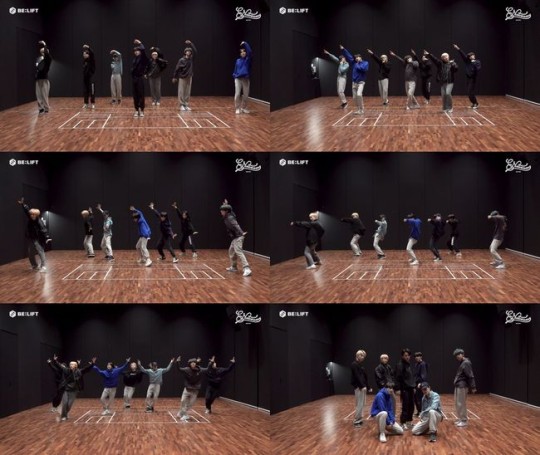 The Kpop group ENHYPEN released a choreography video of the first full-length album's track 'Go Big or Go Home.'
ENHYPEN (JUNGWON, HEESEUNG, JAY, JAKE, SUNGHOON, SUNOO, NIKI) posted a choreography video of 'Go Big or Go Home' from the first full-length album 'DIMENSION: DILEMMA' released on their official social media channel at 11:30 pm on November 26.
ENHYPEN marks its first debut anniversary on November 30. They have been holding a special festival called 'ENNIVERSARY' with ENGENE (fandom) around the world since November 23. They released various contents such as family photos, 'Enjeol' magazine, and 'Enhouse.'
Also, they released the choreography video of 'Go Big or Go Home,' which was hot during the first full-length album release. So, it draws enthusiastic responses from fans around the world.
In the released video, the members boasted a different natural charm than on stage. They wore comfortable clothes such as training clothes. In line with the lyrics of 'Ride,' the members showed off their energetic performance. They performed the point choreography that looks like riding a motorcycle excitedly and powerful group dance of dance breaks.
ENHYPEN plans to continue the enthusiasm of 'ENniversary' by releasing 'ENjeol' magazine and 'Enhouse' contents from today, November 27 to 28.
Meanwhile, Kpop group ENHYPEN has become a 'global Kpop rising star' by recording cumulative sales of more than 1.13 million copies based on the monthly album chart in October with 'DIMENSION: DILEMMA,' becoming a 'million seller' within a year of its debut.
Read More About: Girls' Generation Seohyun Shows Her Elegant Beauty
best Kpop girl group
,
best kpop news site
,
best kpopstar
,
Border: Carnival
,
border: day one
,
Border: Hakanai
,
breaking news kpop
,
daily kpop news
,
DRUNK-DAZED
,
ENHYPEN
,
ENHYPEN members
,
Fandom
,
Given-Taken
,
Korean celeb news
,
Korean singer
,
Korean singer songwriter
,
KPOP
,
Kpop album
,
Kpop beauty routine
,
Kpop boy group
,
kpop celebrity news
,
Kpop chart and news
,
Kpop colllaboration
,
KPOP comeback
,
Kpop current news
,
kpop daily news
,
kpop Enhypen
,
Kpop fashion
,
Kpop girls group
,
Kpop idols
,
Kpop issues
,
Kpop latest news
,
Kpop music chart
,
Kpop news
,
Kpop news articles
,
Kpop news sites
,
kpop news update
,
Kpop recent news
,
Kpop skin care routine
,
Kpop skincare routine
,
KPop trending news
,
KPOPNEWS
,
South Korean singer songwriter
,
the best kpop girl group
,
the best kpop girl group of 2021
,
the best kpop group of 2021
,
the top kpop group
,
top kpop boy group
,
top kpop girl group