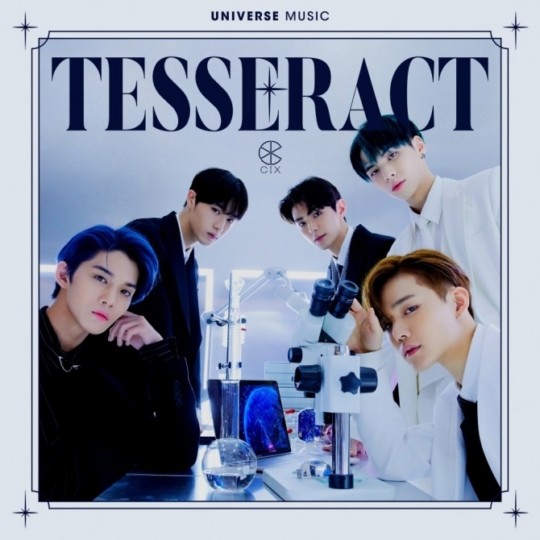 Group CIX raises expectations for a new album with various teaser contents.
On June 25th, the management company C9 Entertainment announced, "CIX (BX, Seunghun, Jinyoung Bae, Yonghee, Hyunsuk) will release a new song 'TESSERACT (Prod. Hui, Minit) through Universe Music on July 1st."
According to the scheduler released through the universe app and official social media, CIX will start with the universe concept photo on June 25th, the concept film 'THE END OF INFINITY' on June 27th, the 'OBJECT' version teaser on June 28th. Also, they will release the teaser for the 'CHAOS' version on June 30th. So, it is raising the expectation of their fans for their new song.
At the same time, CIX released the cover image of 'TESSERACT (Prod. Hui, Minit),' attracting attention. CIX members wear a black and white suit in the released image to make their sophisticated visuals stand out even more. The members look at the camera with chic eyes and show off their overflowing charisma, which catches the eyes of the fans.
In addition, various experimental devices such as microscopes and flasks combine with CIX's appearance to raise questions about the concept of the new song. Fans are excited about what message and performance CIX will give through 'TESSERACT (Prod. Hui, Minit).'
CIX will release 'TESSERACT' on various online music sites at 6 pm on July 1. Besides, they will release the music video exclusively through the Universe app.
Read More About: LOONA, To Comeback With '&'… What Fans Will Expect?
2021 kpop news
,
2021 kpop news updates
,
2021 kpop updates
,
CIX
,
Cix kpop
,
CIX Member
,
CIX new album
,
CIX updates
,
CIX_Tesseract
,
KPOP
,
Kpop 2021
,
Kpop artist
,
Kpop artists
,
Kpop Cix
,
Kpop idols
,
Kpop news
,
kpop news CIX
,
Kpop trend
,
Kpop trending
,
KPop trending news
,
Kpop trending now
,
kpop trending update
,
KPOP2021
,
Kpopall
,
KPOPIDA
,
KPOPNEWS
,
Trending
,
trending 2021
,
trending kpop
,
Trending Kpop news
,
trending kpop update
,
trending news
,
trending update kpop