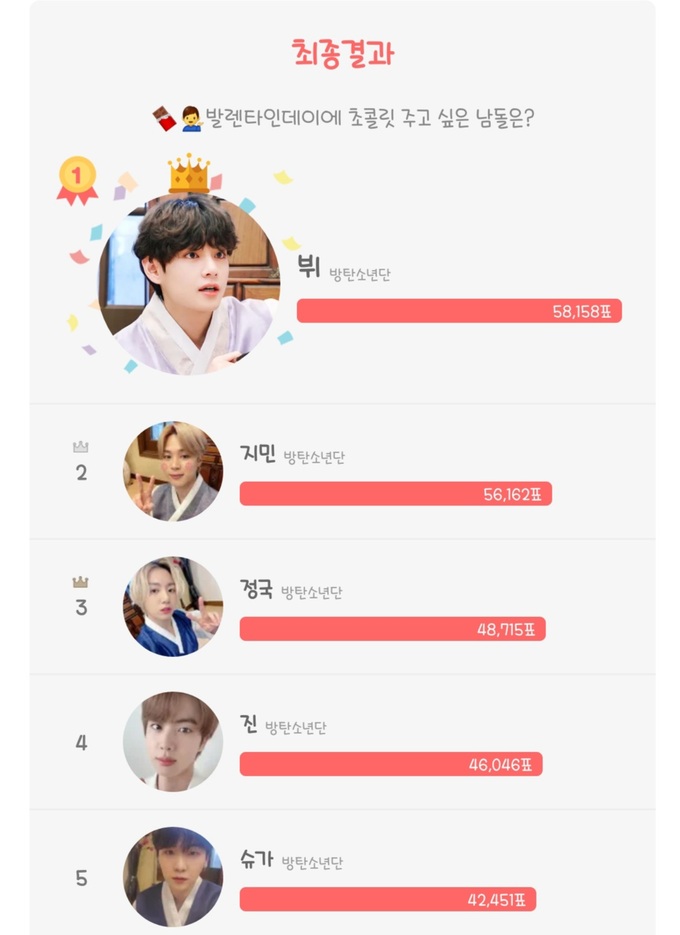 BTS V ranked first as a male idol singer that fans want to give chocolate to on Valentine's Day. According to the idol community application 'Choi Ae-dol', V ranked first with 58,158 votes in the 'Who is the male idol who you want to give chocolate on Valentine's Day?' The project took place from the 4th to the 12th, and 16,2921 people participated.
V is famous as a romanticist who expresses his heart in a special way to his fans. V has the nickname "Weverse Announcement Fairy" for active communication through the official fan community, Weverse. In order to narrow the distance from the fans, they strive in various ways such as games and challenges.
Also, the other BTS members took the top spot in the vote. Jimin finished second with 56,162 votes. Jungkook followed with 48,715 votes, Jin with 46,046 votes, and Suga with 42,451 votes.
2021-02-14 11:46:37
Read More About: Radio host "BTS is COVID19" Broadcaster apology