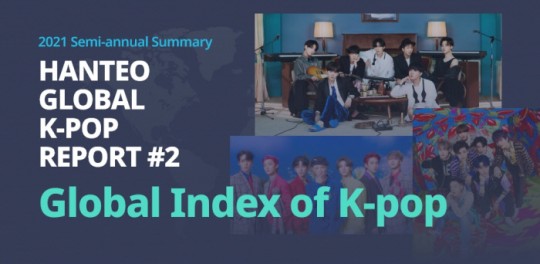 Ahead of the BTS album release, they hailed as the artist with the greatest fandom firepower in the first half of the year.
Hanteo Global (CEO Youngho Kwak), the operator of Hanteo Chart and Whosfan, released the 'HANTEO GLOBAL K-POP REPORT: 2021 Semi-annual Summary' on July 1st.
In the second report published on July 7th, they selected the artist with the greatest global influence using the album authentication data of global K-pop fans, compiled in 'Whosfan Big Data Lab.'
As a result, BTS came first, ATEEZ in second place, and NCT Dream in third place.
The Hanteo Global K-Pop Report paid attention to the fact that BTS recorded the highest certification rate. It is only with previously released albums, even though they did not release a physical album in the first half of this year. In addition, they announced that BTS fans in the US had the highest activity among BTS worldwide. So, it is raising expectations for the upcoming BTS comeback.
Next, ATEEZ, which established itself as a global artist by showing strength in the United States and Europe, has proved its global fandom firepower. Then, NCT Dream was also on this list, which received so much loved in Southeast Asia. Through this report, it reveals where each artist's activity base was. Also, it shows which album received the greatest love among the released albums.
The album authentication data revealed that the US is the country with the most active and influential fandom. Besides, they pointed out that there was a great growth in fans' activities in Southeast Asia.
Particularly, the data in this report can only identify the size and activity of 'core fans' in each region. It also attracts attention by implying that it will act as an important indicator in the global music market.
'Hanteo Global K-Pop Report' is a report that Hanteo released for the first time this year. Hanteo Global operates global K-pop-related services such as Hanteo Chart and Whosfan. It has the purpose of analyzing the trend and direction of K-pop. For more details, you can browse through Hanteo News.
Read More About: BTS 'Butter' Dominating Worldwide Music Charts!
2021 kpop
,
2021 kpop news
,
2021 kpop news updates
,
2021 kpop updates
,
2021 news kpop
,
2021 updates on kpop
,
BTS
,
BTS Army
,
bts Jungkook 2021
,
BTS News
,
BTS songs
,
BTS today
,
bts trending
,
BTS UPDATES
,
BTSTREND
,
Group BTS
,
KPOP
,
Kpop 2021
,
Kpop artist
,
Kpop artists
,
KPOP BTS
,
Kpop idols
,
Kpop news
,
Kpop trend
,
Kpop trending
,
KPop trending news
,
Kpop trending now
,
Kpop_BTS
,
KPOP2021
,
Kpopall
,
KPOPIDA
,
KPOPNEWS
,
Kpopnews 2021
,
Kpopnews2021
,
trending 2021
,
trending kpop
,
Trending Kpop news
,
trending kpop update
,
trending update kpop