After eight years of debut, the Kpop group BTS (RM, Jin, Suga, J-Hope, Jimin, V, Jungkook) opened a personal Instagram account. The seven members express their individuality by starting to communicate with fans in their own way.
On December 6, seven members of BTS opened a personal Instagram and started communicating with their fans. It will be their first personal account opened for the first time in 8 years since its debut on June 13, 2013.
In the past, BTS members have communicated with fans through the group's official account and fan community Weverse. Members who created personal Instagram accounts for the first time in 8 years published various posts that revealed their personalities.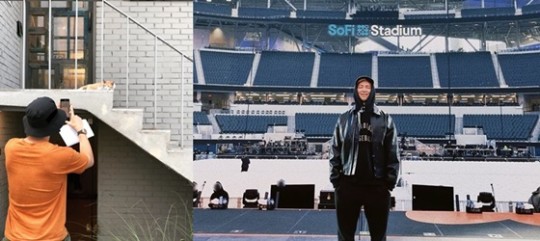 First, RM uploaded three photos of himself relaxing in front of the sea, a photograph taken at the SoFi Stadium in Los Angeles (LA), where they recently held a face-to-face concert, and a photo of a cat he met on the street. One photo of the cat tagged BTS Suga's account, causing laughter.
J-Hope posted two photos that looked like they were taken with a Polaroid. Both of them were photos of himself, and Polaroid's unique vague atmosphere attracted attention.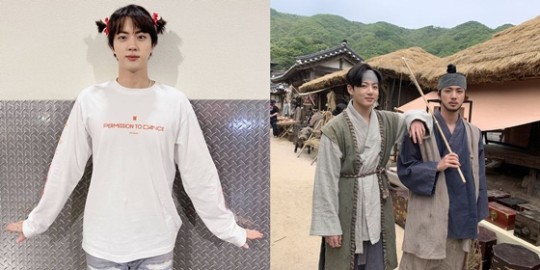 Jin's posts were full of playfulness. He posted a picture of himself that looked like Younghee of 'Squid Game' at their LA concert, a picture of him drawing on a t-shirt in the waiting room, and a picture of Jungkook dressed up as the main character of a historical drama. Notably, in the photo posted with Jungkook, he expressed his affection for BTS's youngest member, "♥The youngest and eldest♥."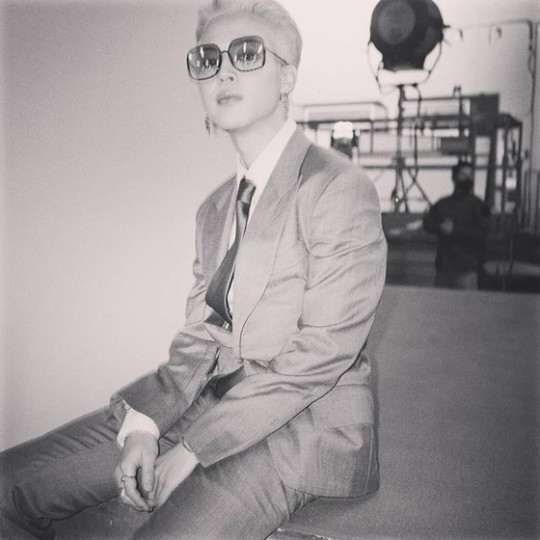 Suga is the only member to not post a picture of himself. His first post was a photo of a park with a peaceful atmosphere. Then, BTS Jimin showed off his appearance by posting a black and white photo of himself wearing a suit and sunglasses.
BTS V revealed his most unadorned appearance. He said, "Dooly, a baby dinosaur," and released artworks such as dinosaur bones and pictorials with flowers. At the same time, he also revealed that he was shaving.
Mainly, V was the only one who posted an Instagram story and used Instagram skillfully. The short video uploaded with the caption, "Heh heh heh," showed V lying on the bed and smiling happily. V magnified the camera, gave a surprised expression, and greeted the fans by saying, "Please take care of me."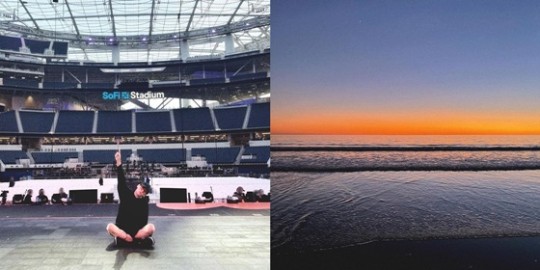 BTS Jungkook even revealed his MBTI (Myers-Briggs Type Indicator). He posted 'ISFP-T' called 'Curious Artist' and 'INTP-T' called 'Logical Thinker' at the same time, saying "Half and Half." 
At the same time, he posted photos taken at SoFi Stadium and sunset photos.
In less than a day after its opening, the members' Instagram exceeded 10 million followers in total. So, it only proves their extraordinary ripple effect.
Remarkably, numerous celebrities also drew attention by following the accounts of BTS members. Comedian Seungyoon Lee, known as the representative ARMY in the entertainment industry, showed his fan sentiment by following all seven members.
V's best friend Wooshik Choi followed V and Jungkook together, while hip-hop legend Tiger JK followed RM. In addition, numerous stars, including Jaejoong Kim, Sungwoon Ha, Seojung Yeo, and Yonji Ham, followed the BTS members' accounts.
Meanwhile, Kpop group BTS recently received its second official long-term vacation and had time to recharge. After successfully completing their first face-to-face performance 'BTS Permission to Dance On Stage – LA' at SoFi Stadium in LA on November 27 and 28 (US time), their official schedule ended on December 3 with the 2021 Jingle Ball Tour hosted by iHeartradio, the largest radio network in the US.
After the vacation, they will hold a concert in Seoul in March with the release of a new album in 2022 and continue their activities.
Read More About: BTS Jin 'Super Tuna' Challenge Craze!
agust d
,
best Kpop girl group
,
best kpop news site
,
best kpopstar
,
breaking news kpop
,
BT21
,
BTS
,
BTS Army
,
BTS BILLBOARD
,
bts butter
,
BTS fancam
,
BTS I'll Be Missing You
,
BTS J-Hope
,
bts jimin
,
bts Jungkook
,
BTS member
,
bts member Jimin
,
BTS member V
,
BTS Members
,
BTS News
,
BTS recent news
,
BTS routine
,
BTS solo songs
,
bts suga
,
BTS trending news
,
BTS UPDATES
,
BTS V
,
daily kpop news
,
Drunken Tiger
,
Fandom
,
Filter
,
Hip-hop Idol JIN
,
Hip-Hop Legend
,
J-hope
,
JIMIN
,
Jin
,
JIN news
,
JK
,
JUNGKOOK
,
Korean celeb news
,
Korean singer
,
Korean singer songwriter
,
KPOP
,
Kpop album
,
Kpop beauty routine
,
Kpop boy group
,
KPOP BTS
,
kpop celebrity news
,
Kpop chart and news
,
Kpop colllaboration
,
KPOP comeback
,
Kpop current news
,
kpop daily news
,
Kpop fashion
,
Kpop girls group
,
kpop idol JIN
,
Kpop idols
,
Kpop issues
,
Kpop latest news
,
Kpop music chart
,
Kpop news
,
Kpop news articles
,
Kpop news sites
,
kpop news update
,
Kpop recent news
,
Kpop skin care routine
,
Kpop skincare routine
,
kpop Tiger JK
,
KPop trending news
,
KPOPNEWS
,
Love Peace
,
permission to dance
,
rapper Tiger JK
,
RM
,
Run BTS
,
Singer JIN
,
South Korean singer songwriter
,
SUGA
,
TAEHYUNG KIM
,
the best kpop girl group
,
the best kpop girl group of 2021
,
the best kpop group of 2021
,
the top kpop group
,
Tiger JK
,
Tiger JK updates
,
top kpop boy group
,
top kpop girl group
,
V
,
weverse magazine