Jin of the Kpop group BTS released the song 'Super Tuna' for the fan club 'Army.'
It is the second time he had released a solo song since 'Abyss' for his birthday last year.
On December 4, Jin's birthday, he released his own song, 'Super Tuna,' for free through BTS' social media channel. The performance video released on YouTube surpassed 7.35 million views as of 3 pm on the same day. Also, more than 160,000 comments were posted.
Jin filmed the video in the Los Angeles sea as the background. The easy-to-follow yet addictive choreography attracted the attention of fans.
In fact, BTS Jin and singer BUMZU produced the song, 'Super Tuna.'
"My heart is beating, flap-flap/ Where did my fish go/ East Sea, West Sea/ Where is my fish?"
"It would be great if it's tuna/ It would be great if it's flatfish/ It would be great if it's mackerel too/ It would be great if it's a shark too/ Please bite on my fishing rod/ At that moment the tuna asked me/ Hyung, hyung, please take me."
These witty lyrics impressed the fans.
On this day, Jin on Naver V LIVE said, "It's a bit embarrassing to call it a gift song. More than 80-90% of the lyrics are about fishing and actually talking with hyung (older male/ brother). So, it feels strange to say that I like this."
"When I first came up with the song, I want to purposely make an average song with Bumzu. Average songs are also good. I wrote a melody and lyrics with BUMZU on the spot. But, choreographer Sungdeuk Son said, "I don't know if it's okay to do this kind of content because you've become a superstar." I thought about whether I could reveal low-quality songs, but it feels like providing you with something to enjoy."
On social media such as YouTube and Instagram, videos covering 'Super Tuna' choreography poured out. So, Jin posted on the fan community Weverse on December 5, saying, "Don't do the super tuna challenge that I didn't even plan. It's embarrassing."
Recently, Kpop group BTS won the 'Record of the Year' award with Butter at the '2021 Hitmaker Awards' in Los Angeles on December 4 (US time). It is the group's second award after winning the 'Group of the Year' award in the 2019 Hitmaker Awards. From November 27 to 28 and December 1 to 2, BTS successfully held the 'BTS Permission to Dance on Stage' at SoFi Stadium in Los Angeles.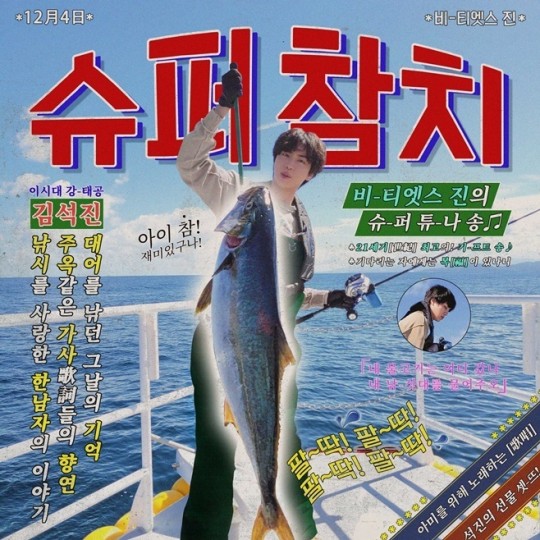 Read More About: BTS Appeared As The Opening Act At The US 'Jingle Ball Tour'
agust d
,
best Kpop girl group
,
best kpop news site
,
best kpopstar
,
breaking news kpop
,
BT21
,
BTS
,
BTS Army
,
BTS BILLBOARD
,
bts butter
,
BTS fancam
,
BTS I'll Be Missing You
,
BTS J-Hope
,
bts jimin
,
bts Jungkook
,
BTS member
,
bts member Jimin
,
BTS member V
,
BTS Members
,
BTS News
,
BTS recent news
,
BTS routine
,
BTS solo songs
,
bts suga
,
BTS trending news
,
BTS UPDATES
,
BTS V
,
daily kpop news
,
Fandom
,
Filter
,
Hip-hop Idol JIN
,
J-hope
,
JIMIN
,
Jin
,
JIN news
,
Jinwoo Kim
,
JUNGKOOK
,
Korean celeb news
,
Korean singer
,
Korean singer songwriter
,
KPOP
,
Kpop album
,
Kpop beauty routine
,
Kpop boy group
,
KPOP BTS
,
kpop celebrity news
,
Kpop chart and news
,
Kpop colllaboration
,
KPOP comeback
,
Kpop current news
,
kpop daily news
,
Kpop fashion
,
Kpop girls group
,
kpop group winner
,
kpop idol JIN
,
Kpop idols
,
Kpop issues
,
Kpop latest news
,
Kpop music chart
,
Kpop news
,
Kpop news articles
,
Kpop news sites
,
kpop news update
,
Kpop recent news
,
Kpop skin care routine
,
Kpop skincare routine
,
KPop trending news
,
KPOPNEWS
,
minho song
,
permission to dance
,
RM
,
Run BTS
,
Seunghoon Lee
,
Seungyoon Kang
,
Singer JIN
,
South Korean singer songwriter
,
SUGA
,
TAEHYUNG KIM
,
the best kpop girl group
,
the best kpop girl group of 2021
,
the best kpop group of 2021
,
the top kpop group
,
top kpop boy group
,
top kpop girl group
,
V
,
weverse magazine
,
WINNER
,
WINNER members