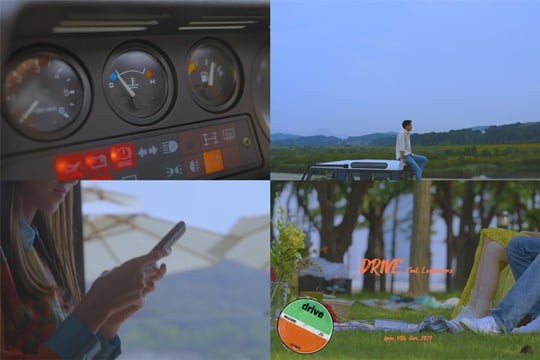 Brown Eyed Soul Jung Yup returns with the summer song 'DRIVE (Feat. Leellamarz).'
On June 10th, Jung Yup released the music video teaser for his single 'DRIVE (Feat. Leellamarz)(Single Edition 2),' which he will release at 6 pm on June 14th.
The teaser video released shows a man traveling somewhere in a car and a woman waiting for someone at a cafe. At the end of the video, a man and a woman enjoying a picnic in a warm sunny park, raising questions about the story of the original music video.
Jung Yup's new song 'DRIVE (Feat. Leellamarz) (Single Edition 2)' is the second single after about two months since the first single edition, 'Waltz For You,' released last spring. Jung Yup composed and wrote the lyrics himself, and Leellamarz participated in the featuring. It is now attracting the attention of music fans.
'DRIVE' is an impressive song with cool lead synth sound and electronic guitar sound, creating a refreshing rhythm. As you can see from the title, this is a summer song that brings the summer atmosphere to life. Even before, Jung Yup has shown various musicality based on R&B. So, fans are curious about what kind of music Jung Yup will play with his new album.
In April, Jung Yup released 'Waltz For You (Single Edition 1),' conveying the excitement of warm spring. The song, which combines a comfortable yet delicate melody, romantic lyrics, and a unique sweet tone, stimulates romantic sensibilities. So, the song received favorable reviews from listeners.
Also, Jung Yup released the fifth full-length album, 'It's Soul Right,' with Brown Eyed Soul members in 2019. Then, they presented beautiful memories to fans by making high-end live performances to Seoul, Daegu, and Busan under the title of the same name.
In addition to Brown Eyed Soul activities, Jung Yup released his single 'Nothing Left' in the spring of 2018. It captivates music fans with its meaningful lyrics along with his delicate emotions. Afterward, he released CCM's 'Unfailing Love' and delivered a deep impression on the music fans.
Brown Eyed Soul member Jung Yup will release 'DRIVE (Feat. Leellamarz) (Single Edition 2)' on various online music sites at 6 pm on June 14th.
Read More About: Jaurim Releases 'The Songs Written On Leaves' Today
2021 kpop
,
2021 kpop news
,
2021 kpop news updates
,
2021 kpop updates
,
2021 updates on kpop
,
brown eyed soul
,
brown eyed soul_Jung Yup
,
jung yup
,
Kpop 2021
,
Kpop artist
,
kpop brown eyed soul
,
kpop jung yup
,
Kpop news
,
Kpop trend
,
Kpop trending
,
KPop trending news
,
Kpop trending now
,
kpop trending update
,
KPOP2021
,
KPOPIDA
,
KPOPNEWS
,
Trending
,
trending 2021
,
trending kpop
,
Trending Kpop news
,
trending kpop update
,
trending news
,
trending update kpop