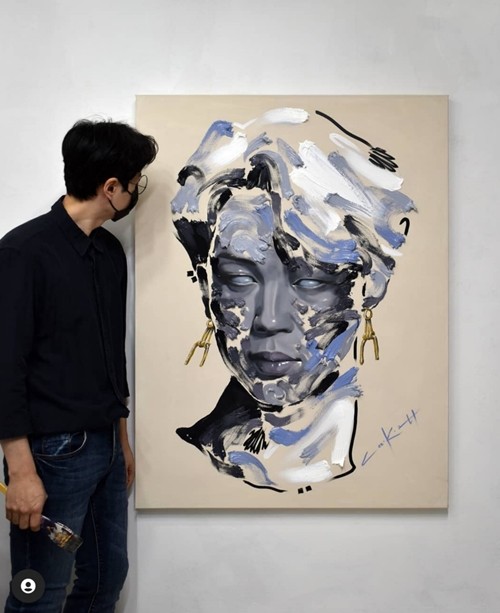 Illustration artist Lee.K has been steadily promoting Jimin for several years through his illustrations and presenting in overseas exhibitions. He revealed that Jimin is a 'model'. He released his new work on March the 6th.
The artwork he released entitled, '2021 First Oil Painting JM' expresses the mysterious atmosphere of the Eastern and Western style of Jimin. Along with is a fresh technique of rough touch using blue and grey colors.
Artist Lee.K released an illustration of Jimin's face along with a New Year's greeting in 2021. He expressed unwavering affection for "Model Jimin" this year.
Writer Rikei has been active in the work of 'The Chronicles of Language'. He also revealed that Jimin's face is very oriental. However, the lines descending from the neckline are thick and angular.
In September of last year, 'Global Project FOCUS ART FAIR' and 'Russia International Art Festival', which is held in Portugal exhibited Lee.K's artworks of Jimin.
In October, Lee.K held exhibitions in France, and in November, at the Benjamin Eck Gallery in Munich, Germany. Throughout he used Jimin as his model.
In 2019, the Jimin artwork was quickly sold out at the Fold Gallery exhibition in London, England. But aside from that, every exhibition of his artwork has literally drew attention.
From April 23rd to 25th next month, there will be an exhibition of new Jimin artwork for the first time at 'FOCUS ART FAIR' in Paris, France.
In the video of BTS 'BE-hind Teaser', the fans have captured the appearance of the artworks of Lee.K in the background.