Kpop group Apink member and actress Naeun Son expressed her gratitude. On February 23, Naeun Son posted on her Instagram, "Thanks to our Ghost Doctor, I was able to shine even brighter. Thanks to you, I was happy and thankful. I was an intern until now."
She even posted several photos and videos together.
In the published photo, Naeun Son is smiling while holding a cake with her face engraved on it. In another photo of her, she is smiling and posing with her fellow actors who co-starred in the tvN drama 'Ghost Doctor.'
Naeun also said that her video shows her clapping together while holding a bouquet of flowers she received from actor Kim Bum.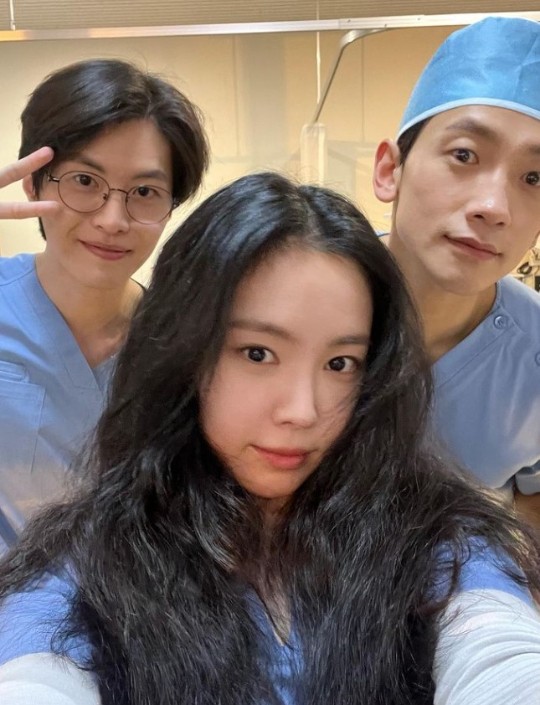 To this, fans left supportive comments such as "Unnie, you've worked hard to be Soojeong," "Oh, our intern worked hard," "It's cute," and "Thank you for your hard work."
Meanwhile, Kpop group Apink member Naeun Son appeared as intern Soojeong Oh in 'Ghost Doctor,' which ended on February 22.
You Might Also Like:
APINK
,
Apink bullying issue
,
apink member
,
apink naeun
,
apink news
,
Apink updates
,
best Kpop girl group
,
best kpop news site
,
best kpopstar
,
bomi yoon
,
breaking news kpop
,
daily kpop news
,
Eunji Jung
,
Fandom
,
Hayoung Oh
,
Korean celeb news
,
Korean singer
,
Korean singer songwriter
,
KPOP
,
Kpop album
,
KPOP APINK
,
Kpop beauty routine
,
Kpop boy group
,
kpop celebrity news
,
Kpop chart and news
,
Kpop colllaboration
,
KPOP comeback
,
Kpop current news
,
kpop daily news
,
Kpop fashion
,
Kpop girls group
,
Kpop idols
,
Kpop issues
,
Kpop latest news
,
Kpop music chart
,
Kpop news
,
Kpop news articles
,
Kpop news sites
,
kpop news update
,
Kpop recent news
,
Kpop skin care routine
,
Kpop skincare routine
,
KPop trending news
,
KPOPNEWS
,
naeun son
,
South Korean singer songwriter
,
the best kpop girl group
,
the best kpop girl group of 2021
,
the best kpop group of 2021
,
the top kpop group
,
top kpop boy group
,
top kpop girl group