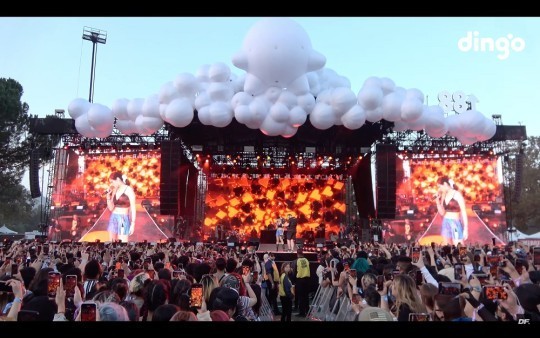 Global media company 88rising has collaborated with Dingo Freestyle, a Korean hip-hop channel. On December 15, Dingo announced the collaboration with 88Rising. From December 11 to 13, 88Rising held the 'Head In The Clouds Festival (HITC Festival).'
They sequentially released a total of 8 live performance videos uploaded to the Dingo Freestyle YouTube channel.
In fact, the global media company held the 'HITC Festival' at Rose Bowl Stadium in Pasadena, California, USA. Also, singers belonging to 88Rising and Korean artists performed on the stage.
Singers Rich Brian and NIKI from 88Rising participated in the festival. Also, singers CL, DPR IAN, DPR LIVE, MFBTY (Tiger JK, Mirae Yoon, Bizzy), BIBI, Seori, Lil Cherry, and GOLDBUUDA participated.
Meanwhile, 88Rising is a global media company and label based in the United States. As a leader in the music field, media, and events celebrating Asian culture, they held the 'HITC Festival' for the first time in the United States, an Asia-focused music festival.
Recently, they participated in producing the soundtrack album for the Marvel movie 'Shangchi and the Legend of The Ten Rings' for the first time as an Asian company. Also, in 2022, a special performance and project will be presented at the 'Coachella Festival.'
Read More About: TRENDZ Confirms To Debut On January 5!
2NE1 member CL
,
ALPHA
,
best Kpop girl group
,
best kpop news site
,
best kpopstar
,
breaking news kpop
,
CL
,
CL label
,
CL news
,
CL updates
,
composer Seori
,
daily kpop news
,
Dive With You
,
Drunken Tiger
,
Fandom
,
Hip-hop Idol JIN
,
Hip-Hop Legend
,
Jin
,
JIN news
,
JK
,
Korean celeb news
,
Korean singer
,
Korean singer songwriter
,
KPOP
,
Kpop album
,
Kpop beauty routine
,
Kpop boy group
,
kpop celebrity news
,
Kpop chart and news
,
KPOP CL
,
Kpop colllaboration
,
KPOP comeback
,
Kpop current news
,
kpop daily news
,
Kpop fashion
,
Kpop girls group
,
KPOP GROUP MIRAE
,
kpop idol JIN
,
Kpop idols
,
Kpop issues
,
Kpop latest news
,
Kpop music chart
,
Kpop news
,
Kpop news articles
,
Kpop news sites
,
kpop news update
,
Kpop recent news
,
kpop singer Seori
,
Kpop skin care routine
,
Kpop skincare routine
,
kpop Tiger JK
,
KPop trending news
,
KPOPNEWS
,
Love Peace
,
MIRAE
,
MIRAE comeback
,
mirae members
,
rapper Tiger JK
,
rookie group MIRAE
,
seori
,
Seori news
,
Seori single
,
Seori updates
,
singer CL
,
Singer JIN
,
singer Seori
,
South Korean singer songwriter
,
SPICY
,
SPLASH
,
the best kpop girl group
,
the best kpop girl group of 2021
,
the best kpop group of 2021
,
the top kpop group
,
Tiger JK
,
Tiger JK updates
,
top kpop boy group
,
top kpop girl group
,
Ver Cherry